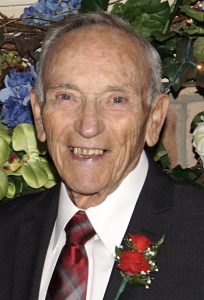 Donald William "Bill" Bray, age 85, died in the morning on Thanksgiving, November 23, 2017. He died in his home in River Falls, WI surrounded by his family.
Bill was born to Ingram and Ada (Deckard) Bray in Lafayette, IN and was the second-to-youngest of fourteen children. He served in the Air Force for over twenty years and retired as Master Sergeant. Through his military service, he and his wife Ardyce were able to travel the world together with their daughters. Despite having lived on three continents and all across the United States, he still said his favorite place he'd ever lived was his childhood home. Bill was a man of many talents, and was known as a woodworker, craftsman, and a phenomenal gardener. He is remembered as a man of great patience, humor, and resilience with ceaseless positivity. Bill and Ardyce were married for over 61 years, and together they enjoyed a life filled with strong faith, good friends, and a loving and close-knit family. He was looking forward to the birth of his first great-grandchild in 2018.
He is survived by his wife Ardyce (Opseth) Bray; daughters Kimberly (Joseph) Pavlichek, Carleen (Robert) Adamson, and Kristen (Todd) Haugen; grandchildren Nicholas Adamson, Kelsey (Nicholas) Miner, Anthony (Allison) Adamson, Zachary Pavlichek, Kristin Bukkila, Nathan Adamson, Erin Haugen, Jacob Bukkila, and Emma Haugen; and his sister Pauline Winger.
A funeral service was held on Monday, November 27, 2017 at 1 pm at the Assembly of God Church (605 Valley View Drive) in River Falls, WI. Visitation was held Sunday, November 26, 2017, from 3-6 pm at Bakken-Young Funeral Home (805 E. Division St.) in River Falls, WI and also on Monday for one hour prior to the service.  Military honors were provided by American Legion Post #121 of River Falls. Interment took place on Tuesday, November 28, 2017 at 11 am at the Northern Wisconsin Veterans Memorial Cemetery in Spooner, WI.  Arrangements are with Bakken-Young Funeral & Cremation Services of River Falls.