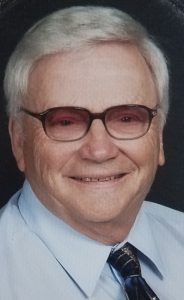 Donald Thomas Stewart was born on January 16, 1931 in Amery, WI to Joe and Marie Stewart.  Shortly after birth, Don's mother, Marie, succumbed to consumption and entered God's presence.  Marie's sister, Bessie was married to Joe's brother, Thomas Ralph and they adopted baby Don and raised him as their only child in Clear Lake WI.
Don attended and graduated from Clear Lake High School in 1949. During his high school years, he started singing with some friends and eventually they would be known as The Missionaries Quartet.  He enjoyed singing for the Lord whenever and wherever he could and continued singing throughout his life with The Missionaries and as a soloist.
In high school, Don had the good fortune to meet Millie Shafer.  She says that she had to fight through several girls to get to him as he was quite popular with the ladies.  On April 6, 1950 Don and Millie were married and settled into farming life, singing with The Missionaries and raising their children, Jim and Lynnette.  After determining that farming was not his gift he purchased a local milk route delivering milk door to door in Clear Lake and area grocery stores.  This was much more enjoyable for him than farming and he continued as "the singing milkman" for several years.  Later in the 1960's Don was offered the chance to become an insurance agent with MSI.  He sold his local milk business and jumped into a new life taking Millie with him as his bookkeeper.  In 1973, Don and Millie moved to Eau Claire, WI when he was promoted to District Manager for Mutual Service Insurance.  A new life began, a new church was found and they spent 20 happy years there.  Don had some knee issues and he retired from the insurance business and announced that they were going to "hit the road" again and spend their winters in Arizona.  They sold their home and moved to Star Prairie, WI to live seasonally with their daughter and son-in-law.  They enjoyed retirement in the warm climate tremendously but when health issues became prominent in both of their lives they made the decision to move back to their home area and be closer to their family.
After health complications continued to increase, Don and Millie moved into The St. Croix Health Center in New Richmond for additional care.  On August 5, 2017 Don went home to walk with Jesus without any more pain.
Don is survived by his beloved wife, Millie, his son, Jim (Cheryl) Stewart and daughter, Lynn (Chuck) Munson –  grandchildren: Jamie Rivera, Joe (Josie) Stewart, Andy (Mari) Munson, Amber (Wayne) Zach, great-grandchildren: Asia & Joshua Rivera (Jamie), Brandon & Gavin Stewart (Joe), Daisy, Veronica, Charlie, Sally, Mark, Travis, Nathan, Lila, Henry, Grace, Jordan & Zack Munson (Andy), and Connor & Brayden Zach (Amber) along with many nieces and nephews.  Don was preceded in death by his adoptive parents Thomas Ralph & Bessie Stewart, birth-parents Joe & Marie Stewart, fraternal siblings Dean, Dorothy, Beulah, Ethel.
Visitation for Don was held at Bakken-Young Funeral & Cremation Services Beebe Chapel in New Richmond on Thursday, August 17, 2017 from 5-7 pm.  Funeral Services were at the Bakken-Young Beebe Chapel at 11 am on Friday, August 18, 2017 with visitation 1 hour prior to services.  Private interment was in Clear Lake at a later time.   Arrangements are with Bakken-Young Funeral & Cremation Services Beebe Chapel of New Richmond.