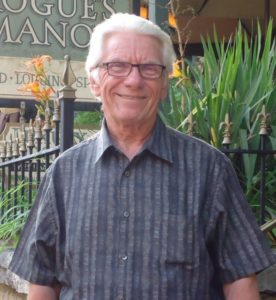 Donald Edward Pabst, age 74 of New Richmond, WI passed away at home surrounded by his family on Thursday, May 9, 2019, from multiple myeloma. Don was born in St. Paul, MN. In 1950, his family moved to Amery, WI where Don graduated from Amery High School in 1962. He joined the Wisconsin Army National Guard in June of 1965 and served six years with Honorable Discharge on June 6, 1971, as Staff Sergeant. On June 10, 1967, he married Barbara Durand, his wife of almost 52 years. In 1972, they moved to New Richmond where daughters Tracie and Tami grew up. He worked in the packaging machinery industry until his retirement in 2003.
Don and Barb enjoyed many road trips traveling throughout the United States. They also visited many National Parks with Glacier National Park being one of their favorites. Don also had a passion for corvettes and enjoyed going to car shows throughout the Midwest. He was a member of Classic Corvettes of MN and received many awards for the three corvettes that he owned with one being featured in the Corvette Fever magazine of July 2005.
Don is survived by his wife Barb; daughters Tracie Pabst of White Bear Lake, MN and Tami (Brad) Zunker of Arden Hills, MN; grandchildren Maya Zunker and Beau Zunker; sister-in-law June Pabst of Clear Lake, WI; niece Lori (Duane) Page of New Richmond, WI; nephews Brad (Bea) Pabst of Tacoma, WA, David (Teri) Pabst of Middleton, WI, Daniel (Sally) Pabst of Ellsworth, WI, and also many other relatives and friends. Don was preceded in death by his parents Lawrence and Esther Pabst, brother Robert Pabst, and infant niece Candace Pabst.
Thank you to St. Andrew's Lutheran Church pastors and members and also family and friends for all of your love and prayers. Thank you to Regions Hospital and Westfields Cancer Center for the wonderful care from the oncology doctors and nurses during the past three years. Thank you to Lakeview Homecare and Hospice of Stillwater, MN who were always there for us. All of you will always have a special place in our hearts.
A memorial service was held at St. Andrew's Lutheran Church at 900 Stillwater Road, Mahtomedi, MN on Wednesday, May 15, 2019 at 11:00 am with a visitation beginning at 9:30 am at the church.
Arrangements by Bakken Young Funeral and Cremation Services of New Richmond, WI.
Private family interment will be at Amery Cemetery, Amery, WI.