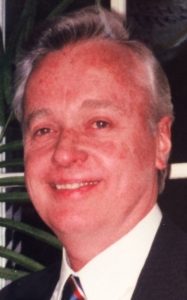 Donald William May, 79, died comfortably in his home Wednesday, October 19, 2016.
Don was born August 23, 1937 in small town Perryville, Missouri.  He lived the majority of his adult life in Saint Louis, Missouri where he married, built a home, and raised his family.
In his later years, he made a happy home in the community of New Richmond, WI.  He attended the United Church of Christ in Roberts, WI.
Don enjoyed good stories through reading, going to the movies, reminiscing with friends, and especially joke telling. He shared in the tribulations of those around him and gave the most enthusiastic fanfare during times of celebration.
Don May was a dreamer, a builder, a strong competitor, a fine salesman, and a wonderful father and grandfather.
Don is survived by his companion, Wanda Hopkins, his brother David William May, his two daughters: Laurie (Frank) Fitzgerald and Christy (Mike) Wienstroer, his two sons: Andy (Dawn) May and Scott (Soha Youssef) May, their mother Barbara May, and grandchildren: Brian Fitzgerald, Katie Fitzgerald, Megan Fitzgerald, Tanner May, Adam Wienstroer,, April Wienstroer, and Ethan Wienstroer.
Don is also survived by his Wisconsin family:  Shelly (Paul) Hopkins Gavle, Robert (Brenda) Hopkins, Daniel (Kimberly} Hopkins and Thomas (Sally) Hopkins and Wanda's grandchildren: Marshall, Mitchell, Matthew McCarty, Ryan, Brielle Hopkins, Preston, Hanna, Bryce Hopkins, Michael, Miranda, Joshua Hopkins and Elise and Joe Erickson and many friends.
Don joins his parents Roy William May and Olive Marie (Zahner) May, and his brother Gary William May.
Two Celebration of Life Services were held. The first on Saturday, October 29, 2016 at 3 pm at the Roberts Congregational Church 1001 Birch Drive, Roberts, WI.  Visitation was also held on Saturday, October 29, 2016 from 2-3 pm at the church.
The second on October 30, 2016 at the Immaculate Conception Catholic Church in O'Fallon, Mo.  Memorial Mass of Christian Burial was held at 2 pm with visitation from 1-2 pm at the church.  Interment will be at a later date.  Arrangements are with Bakken-Young Funeral & Cremation Services Beebe Chapel of New Richmond.