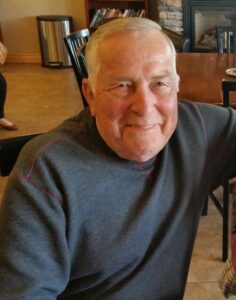 Donald "Don" Johnson passed away on Saturday, October 29, 2022, at the age of 79. Don was born on April 29, 1943, to Delphin & Iva Mae Johnson in Litchfield, MN. Don grew up on the family farm near Litchfield and after graduating from high school, he continued to farm and also worked at Green Giant.
Don married Lavonne Tiemens on July 27, 1963. To this union three children were born: Jeffrey, Wade, and Wendy. After raising their children on the farm, Don went back to school to become a packaging technician for Bosch. In 1995, Don and Lavonne moved to New Richmond, WI and Don continued his career with Bosch until 2014 when he retired to care for Lavonne. After 51 years of marriage, Lavonne passed away in 2014.
Don enjoyed gardening, woodworking, and fixing things in his spare time. Don was introduced to Janet Krampert by his good friend Debbie O'Flanagan. On October 28, 2017, Don married Janet Krampert in Dresser, WI. Janet helped Don live life to the fullest each and every day.
Don was preceded in death by first wife Lavonne Johnson, brother Dale Johnson, parents Delphin and Iva Mae Johnson, and step-grandson Levi Krampert. Don is survived by his wife Janet, his three children Jeffrey (Lori) Johnson, Wade (Sharon) Johnson, and Wendy (Keith) Jahnke, six grandchildren Jesse Johnson, Jacob Johnson, Carissa Hansen, Lindsey Cannon, Kass Jahnke, and Kullen Jahnke and three great-grandchildren. Stepchildren include Brenda (Jeff) McIntyre, and Steve (Debbie) Krampert. Step-grandchildren include Krissy Schwarzhuber and Alicia Krampert. Siblings include Keith (Connie) Johnson, and Gwen Lewis. Memorials may be directed to Saint Jude's Children Research Hospital.
A Memorial Service was on Saturday, November 5, 2022 at 10:00AM at Bakken-Young Funeral & Cremation Services (728 S Knowles Ave) in New Richmond with a visitation starting at 9:00AM. Interment will be at a later date in Litchfield Cemetery in Litchfield, MN. Arrangements are with Bakken-Young Funeral & Cremation Services.
Click here to watch the recording of Donald's service.