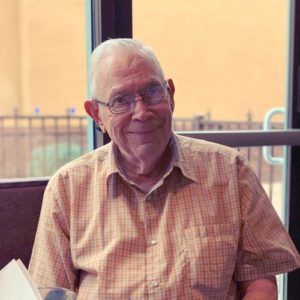 Donald Christopherson
Peter and Nora (Mork) Christopherson welcomed their new baby boy, Donald, into their family on January 16, 1934. He was born at home, in Wilson Township, in Dunn County, Wisconsin. Donald was raised on the family farm four miles east of Ridgeland, on Highway V. Don and his siblings, Donna and Harlan, grew-up milking cows by hand and doing field work with horses. When their work was done, Don's family enjoyed watching free shows in Ridgeland, Dallas, and Wheeler and attending festivities at the Ridgeland Fair.
Donald was baptized and confirmed at Pine Creek Lutheran Church, just down the road from his family's home. He attended rural one-room Evergreen School through eighth grade. Don began his high school years in Prairie Farm, but decided school was not for him when he was sixteen years old.
He worked with his dad on the farm before working at the Continental Canning Company in Ridgeland and Sanna Dairy in Menomonie. In the early 1950s Don made the decision to attend the Vocational School in Eau Claire. After two years of fulltime studies, he completed his degree in commercial and residential electrical wiring. He spent another three years working for a plastic factory in Chippewa Falls before he saw an ad in the newspaper listing a job opening for an electrician at Doboy Industries in New Richmond. Don started work as a Doughboy employee on June 13, 1966—he held this position until March 8, 1996. After retiring, he enjoyed visiting with shoppers as worked at the New Richmond Econofoods/Family Fresh from 2002 to 2009.
In 1980 he decided to build himself a Wick home in New Richmond; Don was proud of the choices he made during the building process, and he took very good care of his home. In his free time, Donald helped numerous friends and family members with wiring projects in their homes.
The fall of 1987 was a momentous time in Donald's life. His good friend, Hoyt Pederson, introduced Donald to a very kind and sweet Adeline. This 54-year-old bachelor popped the question, and Donald and Adeline were married in June of 1988 at West Immanuel Lutheran Church, near Star Prairie, Wisconsin.
Donald's quiet lifestyle was instantly transformed into a hustling and bustling, fun-filled, and busy time as a husband, father, and member of the very large Peterson family. Family gatherings; trips to Branson, Florida, and to Arizona; a shared love of country and Christian music, an incredible love of lefse; and West Immanuel Lutheran Church's worship services and activities filled their days. Don became a staple at West Immanuel's annual lutefisk supper working every event for the last 30+ years.
After several years of owning homes in New Richmond, Don and Adeline were happy to give-up the day-to-day maintenance responsibilities of home ownership when they moved into the lovely Deerfield senior living facility in New Richmond; what a wonderful place to call home.
Donald was preceded in death by his wife, Adeline; his parents, Pete and Nora; an infant sister; his sister, Donna (Stan) Bergum; his brother, Harlan (Shirley); and all the wonderful sisters and brothers-in-law in the Peterson family.
He is survived by his son, Malcolm (Jenn), cousins, nieces, nephews, grand nieces and nephews, extended family members, and friends who loved him, enjoyed spending time with him, and will dearly miss him.
A Funeral Service was held Saturday, February 5, 2022 at 11 am at West Immanuel Lutheran Church 447 180th St, Osceola, WI.  Visitation was also held on Saturday from 10-11 am at the church.  Interment will be in the West Immanuel Church Cemetery at a later date.  Arrangements are with Bakken-Young Funeral & Cremation Services.
Click here to watch the recording of Don's service