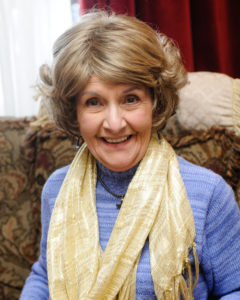 Dolores Elaine Johnson, age 83 passed away February 10th at St. Elizabeth Healthcare Center in Wabasha, MN. She joyfully jumped into Jesus arms after a long journey of various challenges. She was born in St. Paul, MN on January 14, 1937 to Eugene and Elda Klein (Adkins). Dolores graduated from Washington High School in St. Paul. She married Robert Johnson on January 16, 1959 in St. Paul. They lived a few years in Minnesota then relocated to a quaint hobby farm in Wilson, WI. Bob and Dolores had two daughters, Suzanne and Nancy. She was a wonderful mom who supported her girls to the utmost. Dolores was faith-filled, loving, very funny, bold and gutsy. She adored her family and loved her granddaughters she was so proud of, Alex, Samantha and Bekah. Dolores worked for many years at a variety of locations. She worked at the Baldwin Clinic in her early days and in housekeeping at the Hammond Nursing Home, cleaning many private homes and enjoyed chatting with the people that lived in the houses. She even worked in retail at Baldwin's Dime Store on Main Street.
One of her greatest joys was spending time in the little "shop" that Bob had built where they would create many treasures. Dolores painted, crafted and created while listening to loud Christian music in the background. She loved to hike, cross-country ski, snowshoe, dancing and take long daily walks with her pups. Dory passed on her love for nature to her daughters and would often walk with Nancy in the fields picking weeds, talking and later creating masterful arrangements. She instilled the love of all things floral to her youngest daughter. Dory's oldest daughter, Suzanne adopted many of her personality traits mainly the sassy, spunky, energetic and an occasional rebellious streak. With her profound love for pets she spent many years raising, selling and adoring her golden retrievers. Sabrina, was her favorite. Dory even had Sabrina's name tattooed on her arm when she was in her 70s!
Preceding Dolores in death were her parents, Eugene Klein and Elda Whitney; and husband, Robert Johnson. She is survived by daughters, Suzanne (Steve) Wynveen and Nancy Johnson; granddaughters, Alex (Andrew) Dittman, Samantha (Bryan) Heilman, Rebekah (fiancé Daniel Hackley) Wynveen; brother, Donald Klein; and three great-grandchildren, Rowan and Maddilyn Dittman, and Raegan Heilman.
We would like to acknowledge St. Elizabeth's Healthcare Center and Heartland Hospice in Wabasha for their beyond wonderful care and attention. Memorials may be directed to KTIS Christian Radio. A memorial service was held Tuesday, February 19, 2019 at 1:00 p.m. at Bakken-Young Funeral & Cremation Services (1750 8th Ave, Baldwin, WI 54002) with a visitation one hour prior to the service. Arrangements are with Bakken-Young Funeral & Cremation Services.