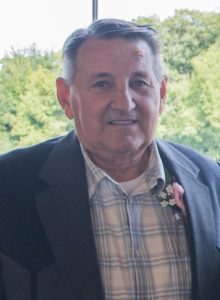 Richard "Dick" Godden, age 77, of River Falls, passed away on March 12, 2022 at Methodist Hospital. Dick was born in Roberts, Wisconsin to Howard and Elisabeth (Torkelsen) Godden and graduated from St. Croix Central High School in 1962. After graduating, he joined the United States Air Force and proudly served his country until he retired from the service in 1966. He then returned to Wisconsin where he lived in River Falls for the rest of his life.
Dick was no stranger to hard work. After working as a sheet metalist at Delavel Metal Manufacturer and 3M, Dick created his own business called Godden Excavation. Over the years, Godden Excavation slowly grew to become Godden Excavation, Pools & Spas, Snow Removal & Grave Digging.
Dick spent hours on end in his workshop woodworking, tinkering, inventing and engineering new things. He enjoyed watching sports, especially the Packers and NASCAR. He also enjoyed watching the food network and war movies and even had a soft spot for Hallmark movies. He loved to travel and took many trips to the Island of St. Thomas where he loved to lounge on the beaches, swap stories with the locals, and barter for goods with Wisconsin cheese and beef tongue.
Dick's favorite past time was relaxing by his pool and entertaining all of his family and friends in the "Paradise" he created in his own back yard. He could frequently be heard saying "grab a cold beer and stay awhile!" and loved to tell jokes and stories to anyone who would listen. He met new friends easily and left a lasting impression on everyone he met.
Dick is survived by his wife, Janice Godden; his children Dianna (Brian) Weber and Greg (Melissa) Godden; his sister Gwen Schrimpf; his grandchildren Danielle (Maclain) O'Connell, Brianna Weber, Jake Godden, and Josh Godden; his nieces and nephews; and many friends. He is preceded in death by his parents Howard and Elisabeth Godden, his brother Gerald Godden and brother in-law Melvin Schrimpf.
A Celebration of Dick's Life was held on Saturday, March 26, 2022 from 1 – 5 pm with Military Honors provided by Fletcher-Pechacek American Legion Post 121 at 5 pm at Bakken-Young Funeral & Cremation Services 805 E Division Street River Falls, WI.  Interment was in Greenwood Cemetery in River Falls.  Arrangements are with Bakken-Young Funeral & Cremation Services.
Grandpa Dick
Those who know my grandpa know he loved to spend time with the people he loved, family and friends alike. I have been thinking about him a lot lately. There are many moments that come to mind when I think of him. I think of our Christmas celebrations, roasting by the fire while playing board games with family. I think of watching him shoot his tennis ball cannon in his front yard trying to hit the target high up in the trees. I think of going into his shop as a little girl and watching him tinker around with his machines for hours having no idea what he was doing but being fascinated nevertheless.
As I think about the time I spent with him, one moment stands out far above the rest: summers by the pool. Even though I was pretty young at the time, I remember those summer days like it was just yesterday. We would show up in the early afternoon right as the day was warming up with our swimsuits on and our sunscreen already applied so there would be no delay between us and the water. My grandpa would encourage my sister and me to bring as many friends as we wanted. The more the merrier.
There was one rule at grandpa's house. You had to give him a hug when you got there and before you left. Of course, as a little girl, I didn't always want to take the time to stop and give him a hug before diving into the pool a few feet away. But now I am so grateful he enforced that rule. Grandpa gave the best hugs and it is just one thing I will miss now that he is gone.
We spent hours on end in that pool splashing, having diving competitions, and trying to knock each other off of pool floaties. Once we got a bit too water-logged, we would step out for the briefest moment to inhale poolside snacks just long enough to keep us going for several more hours. While my grandpa enjoyed entertaining friends and family, he also enjoyed building projects around his house. The few hours not spent in the pool were spent wandering his property and enjoying his creations. We tried to knock each other off the see-saw, we climbed up to the treehouse, we wandered the paths in the massive flower gardens, and played mini-golf on his homemade course.
The days by the pool were fun, but my favorite part, the part I will always remember when I think of my grandpa, was what happened when the sun started to go down. The sun would set and us kids would jump out of the pool and dry off for the night, changing into warmer clothes then watch my grandpa start the fire in the fire pit. Once the coals were nice and hot we would grill up some brats and weenies and have some corn on the cob. But it wasn't just the good food it was the whole experience altogether.
Your hair is slightly damp from the pool and smells like chlorine. As the sun goes down the sound of frogs in the surrounding plants becomes almost deafening over the sound of the manmade waterfall in the background and the bubbles from the large fish ponds. The weenies and corn on the cob taste like summer and as we sit around the fire pit and take in the heat from the flames, we look out across the pool and breath in the surrounding lights reflecting on the water. We would sit together, chatting and joking as a family and as the night came to an end, our little eyes heavy, we would drag our feet to the car, of course giving grandpa a bear hug before we got to the door thanking him for another great day at the pool.
I took those summer moments for granted. I never realized how much it would mean to me, how much of an impact it would have on me now. All these years later I can remember it with so much detail it is almost like I am sitting there beside the pool now. It was our own little paradise right there in his backyard. I would give anything to be back there right now sitting by the pool without a single worry in the world surrounded by the people I love. Because that is exactly what happened. My grandpa loved to spend time with the people he loved and without even realizing it grandpa instilled the same in us. For most people, spending time with family is a chore, something you had to do every now and then. But for us, it was something we looked forward to every summer. Now that he is gone, it is something I look back to with fond memories.