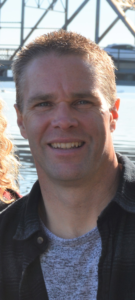 Derek S. Baker, age 46, of Lake Elmo, MN passed away on Monday, January 29, 2018 in St. Croix County, WI. He was born October 25, 1971 in Morristown, NJ.
Derek loves his family–his wife Nancy, children Derek, Allyssa and Spencer, grand-daughter Raelyn, parents Sharon and Dick Deiber, father-in-law Jerry Mathison, mother-in-law Lori Hansen, sister Janelle (Chuck) Siebsen, sister-in-law Joey (Dan) Glisczinski, sister-in-law Sheri (Scott) Bauer, nieces (Amber, Celine, Corinna, Macy, Noelle, and Sierra), nephews (Brent, Nate, Skylar and Sterling), uncle Ron (Linda) Roy, aunt Barbara (Tom) Weberling, uncle Larry (Linda) Deiber, and cousins.
Derek was preceded in death by his father Tom Baker and grandparents.
Derek is loved by all. He was funny, intelligent, and caring. Derek had an adventurous soul.
While growing up, Derek's sister Janelle would frequently offer direction. Derek's consistent response was "Will you let me do what I can do?" One of his first adventures at 4 years old, was driving his little tractor to the neighborhood pool so he could float the sailboat that his grandparents purchased for him. The entire neighborhood spent half a day searching for him.
Derek graduated from White Bear Lake High School in 1989. He went on to graduate from the University of Minnesota, Minneapolis, with a Bachelor's Degree in Mechanical Engineering with an emphasis in design.
In 1991, Derek met the love of a lifetime Nancy Jean Mathison. The two were married July, 19 1997. For over 27 years, they embarked on many adventures including downhill skiing (Derek's favorite), snowmobiling, "Sea-Dooing", boating, tubing (Derek loved to spray everyone!), swimming, waterskiing, wake-boarding, biking, rollerblading, snowboarding, volleyball, hiking, rock climbing, and skydiving.
While raising their three beautiful children, Little D, Allyssa and Spencer, Derek and Nancy went on to build their dream home. Their adventures continued with family vacations (Colorado, Florida, and many others), trampolining, yard games (kickball, kick the can, badminton, croquet), night games (flash light ball tag), ice skating, dirt biking, off-trail skiing, paintball and sledding.
And they experienced joy in quieter times as well. These included playing board games (Stop Thief, Twisted Metal, Monopoly, Cribbage) and card games.
Derek loved a challenge. These included the Spartan Race, Ninja Warrior training, trophy Elk hunting, fixing up the '68 Coronet, and skydiving with Nancy.
Derek was deeply involved in the community. He led Boy Scouts, helped Nancy with Girl Scouts, volunteered for the Lions Club, and coached baseball and softball. He enjoyed volunteering at all of the kids' school functions.
Derek loved to gather with all of his friends. The Baker Bonfire will be an eternal flame in the hearts of many.
Derek was a proud member of the 3M family's corporate culture of care and success for the past 20+ years. He spent his career in the Personal Safety Division – Heavy Manufacturing, Transportation and Mining Industries in a variety of roles including product development, Six Sigma, business development and technical service/application engineering. In 1993, he started his career at 3M as a Technical Aide and was hired as a permanent employee in December 1996 in the Powered and Supplied Air Laboratory as Product Development Engineer. In 2004, he transitioned into a Six Sigma Black Belt role. After certification in 2006, Derek accepted a position as the Global Welding Business Manager. In 2008, Derek joined the Technical Service team as a product specialist for Welding/Powered and Supplied Air. In 2015, Derek became a Global Vertical Technical Service Specialist for Heavy Manufacturing, Transportation and Mining and achieved the level of T5, Technical Service Senior Specialist. Derek was a recognized expert on helping to protect workers doing metalworking and welding in the US and around the world. Derek's unique strength was his ability to connect with people. He worked with employers and workers on every continent, but Antarctica, helping make sure that people were safe, healthy, comfortable, productive, and doing high-quality work. Derek had an energetic, positive, and truly fun spirit that infected everyone he interreacted with and made a difference in so many lives. Derek had an amazing network of colleagues and customers around the world that miss him dearly.
The celebration of Derek's life began with a memorial service at Shepherd of the Valley Lutheran Church (14107 Hudson Road South, Afton, MN 55001) on Saturday, February 10, 2018 at 1:00 pm. Family will begin greeting guests at noon. All are welcome to join a celebration of Derek's life  following the service at The Envision Event Center (The Prom Center) in Oakdale.
Please direct gifts and memorials to the GoFundMe account set up to support Derek and Nancy Baker's children.
https://www.gofundme.com//support-the-baker-family   
Arrangements are with Bakken-Young Funeral & Cremation Services of Hudson.