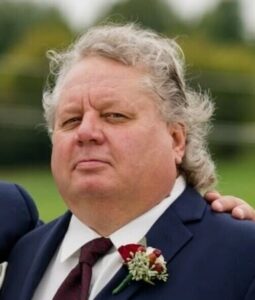 Dennis (Denny) John Kjeseth, age 64, of New Richmond, Wisconsin, passed away peacefully after a short but courageous battle with cancer on February 24, 2023. He was born on October 22, 1958, to Philip and Reta (Krumm) Kjeseth. Denny was born and raised in New Richmond and graduated from New Richmond High School in 1977. He attended the University of Wisconsin Stevens Point and earned his bachelor's degree in Accounting.  Denny was incredibly smart and it was evident when he would play along with Jeopardy and easily keep up with the contestants. He was exceptional at the New York Times crossword puzzles and almost always was able to complete them. Denny was a big fan of the Minnesota Twins and of course the Green Bay Packers. He and his son, Tristan, would often team up for cribbage tournaments in Star Prairie. Denny enjoyed visiting with friends at Huey's and loved all sports.
He will be missed by his mother, Reta; son Tristan (Caitlin); grandchildren, Sierra and Brooks; sisters, Debbi Kelly and Denise (Brad) Baker; nieces and nephews, Chris (Stephanie), Mick (Rebecca), Dylan, Jamie and Caryn; special friends, Tom, Walleye and Millie; along with many other family and friends. Preceded in death by, his father, Philip; grandparents, Helmuth & Hazel Krumm and Arthur & Mildred Kjeseth; step daughter, Brandy Stewart; great niece, Haley Page; and great nephew, Elijah Page.
A celebration of Denny's life will be held on Saturday, May 20, 2023 at the American Legion, 1260 Wall Street, New Richmond, Wisconsin from 12pm-4:30pm.  Arrangements are with Bakken-Young Funeral & Cremation Services in New Richmond, Wisconsin.