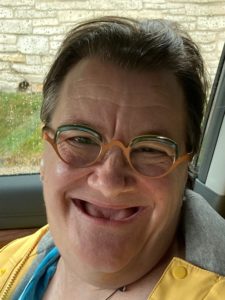 Denise Carol Rezutek, age 54, passed away on Christmas Eve., December 24, 2021, at her sister's home in River Falls, Wisconsin after a courageous struggle with cancer.
We loved Denise's optimistic nature, her infectious smile, and her humorous one-liner wit. She warmed the hearts of people with simple compliments. She often received a friendly tap on her little nose from those who loved her company. Denise was a fierce Rummy 500 card player. She was also especially fond of coloring, word searches, and watching the Green Bay Packers. Denise was a wiz at singing 70s and 80s music, knowing the artists and lyrics to nearly every song played on her radio.
Denise is survived by two sisters, Cynthia (Joseph Schufman) and Candace (David Morrissey), nieces and a nephew. Denise is also the birthmother of Tyler, Riley, Kayla, and Jordan, whom she loved dearly. Denise was preceded in death by her parents Walter and Emerence Rezutek.
We thank Fr. Jerry Harris for his many prayer visits with Denise. A mass of intention for Denise was held at St. Bridget Catholic Church in River Falls, Wisconsin on Christmas Day, December 25, 2021, at 8:30 a.m. officiated by Fr. Harris. A private family graveside service was held at Good Hope Cemetery in Greenfield, Wisconsin. Thank you to the Adoray Hospice staff for their expert advice and care of Denise. Memorial gifts may be sent to Adoray Home Health and Hospice, 990 Main Street, Baldwin, WI 54002.  Arrangements are with Bakken-Young Funeral & Cremation Services.