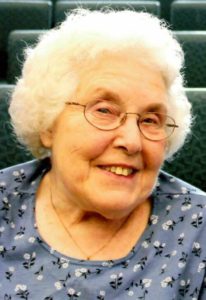 Deloris Pearl (Hintzman) Rice, 83 of New Richmond, WI passed away on November 16, 2021 at Lakeview Hospital in Stillwater, MN surrounded by her family.
Deloris was born January 29, 1938 in Boyceville, WI to Herbert and Bessie (Marlett) Hintzman. She graduated from Boyceville HIgh School in 1956 as class Salutatorian. She married Vilas Rice on August 25, 1956 in Menomonie, WI. To this union 5 children were born. She did home daycare for many families through the years. She cared for the Meyer family until they started school. She then worked as a cashier at Krueger's Super Value and County Market until her retirement. Deloris enjoyed doing embroidery, watching the MN Twins, baking, and spending time with her grandchildren.
Deloris is survived by her children, Wanda Rice, Gary Rice, Pam (Wayne) Sigsworth, and Barbara Rice; grandchildren, Erica (Tim) Pesina, Kaitlyn (George Bonsness) Rice, Hailey (Brayden Stoeckl) and Jordan Rice, Aaron (Christina) Sigsworth, Amanda (Jeff Scott) Sigsworth, Tyler (Nicole) Sigsworth, Kayloni Sigsworth, and Rebecca Rice; great-grandchildren, Axel and Olivia Bonsness, Beckham Stoeckl, Trevor Hitz, Mackenzie and Otto Sigsworth, Zane Hartung, Savannah, Kylie and Baby Boy Sigsworth; brothers-in-law, Gilbert Rice, Chester (Robie) King; sisters-in-law, Lorraine Hintzman, Jean Rice, and Mildred Rice; extended family, Shane and Daniel Meyer, Shelley Huber; and many nieces, nephews, relatives and friends.
Deloris is preceded in death by her parents; husband, Vilas; son, Jeffrey Rice; grandson, Cole Struemke; brothers, Lowell and Arnold Hintzman; sisters-in-law, Marlene Rice and Vivian Rice; brothers-in-law, Willam (Lila) Kirwan, Darrel Rice, and LaZern Rice.
A Funeral Service was held on Monday, November 29, 2021 at 11:00AM at First Lutheran Church (218 County Road K) in New Richmond with a visitation starting one hour prior to the service. A Visitation was held on Sunday, November 28, 2021 from 5:00-8:00PM at Bakken-Young Funeral & Cremation Services (728 S Knowles Ave) in New Richmond, WI. Interment was in New Richmond Cemetery. Arrangements are with Bakken-Young Funeral & Cremation Services.