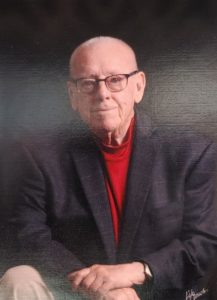 David J. Thomas, age 84 of New Richmond, died Sunday, March 7, 2021 at Westfields Hospital in New Richmond. He was born the son of David and Leah (Winjum) on July 17, 1936 in Minneapolis, MN. David grew up in Sebeka, MN, graduating from Sebeka High School. Following high school, he attended trade school for printing. David worked as a printer retiring from Saint Croix Press in New Richmond. He married Audrey Hunt on April 18, 1958 in Thief River Falls, MN. David was a family man with a great sense of humor. He loved his children and grandchildren. He enjoyed road trips, fishing, and spending time at the lake. David was a longtime supporter of Boy Scouts of America and was a Scout Master.
He is preceded in death by his wife, Audrey; parents, David and Leah; granddaughter, Tracy Bonkoski; daughter-in-law, Diane; brother-in-law, Clifford Schoon; his dog, Frankie. He is survived by his children, Lana, Gordon, Laura (Wayne) Peterson, David (Frederick Young), and Jay; grandchildren, Dawn Fabio, Kelsey, Zachery (Victoria), Shawn, Matt (Anna) Bonkoski, Jordan Peterson, Carrie Jo (Percy) Palomino-Azurza, Amanda (Isaac) Brown, David C. (Gris); 12 great-grandchildren; 2 great-great-grandchildren; daughter-in-law, Carla; siblings, Sharon Schoon and Margaret (Dick) Rhoades; and many other nieces, nephews, relatives, and friends. In lieu of flowers, memorials preferred to American Diabetes Association or American Heart Association. A special thanks to Lakeview Hospice for their incredible care and support.
A Memorial Service was held on Saturday, May 15, 2021 at 2:00PM at Bakken-Young Funeral & Cremation Services (728 S. Knowles Ave) in New Richmond with a visitation one hour prior to the service. Interment was in Boardman Cemetery in Boardman, Wisconsin. Arrangements are with Bakken-Young Funeral & Cremation Services.