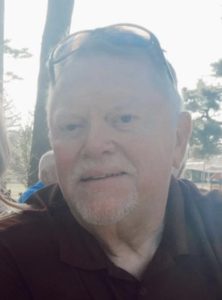 David J. Lewis, age 69, of River Falls passed away peacefully at Froedtert Hospital, Milwaukee, WI with his wife and daughter by his side. A Private Extended Family Service was held Saturday, December 11, 2021 at 12:00 noon with private visitation before the service beginning 10:30am at Harvestime Outreach Church, 498 Jacobs Lane, Hudson, WI 54016. Interment was in Greenwood Cemetery in River Falls, WI. A Public Celebration of David's Life will be held in the Spring/Summer of 2022.
David was born in Plum City, WI and raised on a farm near Plum City. He attended school in Elmwood, WI until the 8th grade when his family moved to Red Wing, MN. He graduated from Red Wing High School in 1970. He attended The University of Southern Mississippi in Hattiesburg, MS for one year until he returned home to Wisconsin to help his mother care for his father.
In 1981 David met his future wife, Carol, on a blind date – the exact date of Wisconsin's fishing opener. She was introduced to him by his sister, Pat, who worked with Carol at the time in Jackson, MN. They dated long distance, and after only five months became engaged. They were married on June 26, 1982 in Jackson, MN, Carol's hometown, and after that, they started their lives together in Prescott, WI. In 1985 they gave their lives to The Lord, got baptized in water, built strong community and joined a church in River Falls, WI, which led them to buy their first home there a year later. In 1987 David became a father. His heart's desire was fulfilled when their daughter Chelsea was born. David always loved children and wanted to be a father.
David moved to St. Paul MN in the mid-1970's, was employed as a landscaper and at Viking Automatic Sprinkler Company. In 1979 he moved back to Wisconsin and began his career at Red Wing Shoe Company. He remained at this employment, most recently in Quality Control, until his early retirement in January 2010. He later started a PT post-retirement position with St. Croix County Facilities in Hudson and Baldwin, WI until May 2019. Later in 2019-2020 he drove his friend, Dan Jordan, who had ALS, to and from his business. They became fast friends and shared great conversations and lots of laughter together.
David was known for his love for fishing, hunting, the outdoors, and sports, especially the MN Vikings, MN Twins, and MN Gophers. When Chelsea was younger, the family would spend one week every summer renting a cabin on Nancy Lake in Minong, WI and later at his cousin's cottage right across the lake. This became one of his "happy places." He also, most recently, enjoyed hunting deer and turkey at his other "happy place," the Jordan Ranch.
David was an incredible husband, father, provider, and friend. He was known for his hilarious, cheesy sense of humor, often teasing his nephews or performing silly imitations of Woody Woodpecker, The Cowardly Lion, Elmer Fudd and Porky Pig.
David deeply loved his entire family. He was a spiritual father and mentor to many. He would find any opportunity to take people out in his boat just to pour into them. He had a servant's heart. He always chose to put everyone else first before himself, and inspired others to do the same. He volunteered at church doing everything from teaching Sunday school to setting up tables. He was also a Deacon and an usher. David always lent a helping hand doing anything that needed to be done. He was passionate about sharing Gods truth and love and seeing peoples lives changed. David also had a heart for Israel, and hoped to travel there someday with Carol.
David is survived by his wife Carol, daughter Chelsea, brother Loren (Mike) Lewis, Jr. (Jo), sister Mary Jo Bjork (Brad) and several nephews and nieces.
David was preceded in death by Loren (Bud) Lewis, father; Rhene Lewis, mother; Jim Lewis, brother; John Lewis, brother; Patricia Robole, sister; Jeff Lewis, nephew; Brett Robole, nephew.
Arrangements are with Bakken-Young Funeral & Cremation Services.
click here to watch David's service live at 12 noon on Saturday 12/11/2021