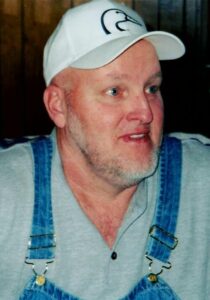 David "Dutch" Wilmer Dittman, age 70, of New Richmond, died Monday, October 17th at Comforts of Home-Hudson, with his wife and daughter by his side. He was born September 14th, 1952 to Wilmer "Willy" Edward Dittman and Ruth Dittman (Affolter). Growing up on the family farm in Boardman, he earned his nickname, "Dutch," from his dad. With a nickname that means "trouble," he didn't like it at first, but he sure grew into it.
Dutch went to grade school in Boardman and graduated from New Richmond High School in 1971. He was a farmer all of his life. He worked at Duro Bag for many years, and Andersen Windows after that.
He met his sweetness, his sugar plumb, Julie Frank, as they both grew up in Boardman. They played pool together at the local taverns. They were married April 12th, 1986 at Redeemer Lutheran Church in Burkhardt.
Dutch's heart was always in farming. He loved being out on the tractor or feeding the chickens. He was an active member of the New Richmond Lions Club for many years. One of the things he particularly enjoyed was growing a pumpkin patch for the Lions Club each year. He also enjoyed any and all events at his church, Redeemer Lutheran. Dutch spent many nights with his friends playing "500." He treasured his friendships. Taking his kids camping and fishing was always enjoyable. He loved going to his kids' games and was always the loudest one cheering in the crowd. Dutch volunteered at the Deerfield, leading chat groups with the guys and bringing in his animals for the residents to see.
There will never be another like Dutch. He will be remembered for his larger-than-life personality, heart, and soul. He had a story for every occasion and kidded around like none other. Wherever he went, Dutch made friends. He was a giver, always there to lend a helping hand or lighten the mood with his lively banter. Dutch was known for his shenanigans and lived up to his nickname for sure.
Dutch was preceded in death by his parents. He is survived by his wife, Julie Dittman (Frank); brother, John Dittman (Terri Maloney); children, Amber (Drew) Kusilek and Jesse (Brittany) Dittman; his grandchildren, Axel Kusilek, Talyn Kusilek, and Weston Dittman; and many friends and relatives.
A Memorial Service was held on Friday, October 28, 2022 at 6:00PM at Bakken-Young Funeral & Cremation Services (728 S Knowles Ave) in New Richmond with a visitation starting at 4:00PM. Arrangements are with Bakken-Young Funeral & Cremation Services.