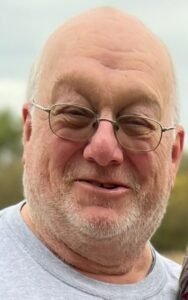 David Stanley Bladecki, age 70, died on Monday, January 9, 2023 at Westfields Hospital in New Richmond. He was born the son of Raymond and Rita nee Mika Bladecki on September 30, 1952 in Bay City, MI. David grew up in Hoyt Lakes MN until he was 16 and then moved to South Range WI. He graduated from Northwestern High School, class of 1970. Following high school, David served in the National Guard for 18 years. He worked as a contractor and carpenter his whole life. David married Janet Myers on June 5, 1999 in Superior, WI. He loved working with model trains and anything to do with Christmas. Dave was hilarious and loving. He wore his heart on his sleeve. Dave was supportive of his family.
He is preceded in death by his parents, Raymond and Rita; brother, Jerome; brother-in-law, Joe Plautz; and niece, Denise Closson. David is survived by his wife, Janet; stepchildren, Rick Rock, Charlotte Rock, Christy (Darren) Olien, and Becky Rock; 16 step grandchildren; 7 step great-grandchildren; sisters, Pauline Plautz and Geraldine Closson; nieces, Susan (Sean James) Bladecki, Tanya (Richard) Troska, and Kimberly Bladecki; grandnieces and grandnephews, Nikolai (Mat) Troska, Bugs Ericksen, and Lillian Troska; mighty dog, Brutus; and many other relatives and friends.
A Celebration of Life was held on Sunday, January 15, 2023 from 11-2PM at Bakken-Young Funeral & Cremation Services (728 S Knowles Ave) in New Richmond. A short prayer service was held at 11AM and 1:45 PM with military honors followed the afternoon prayer service. Arrangements are with Bakken-Young Funeral & Cremation Services.