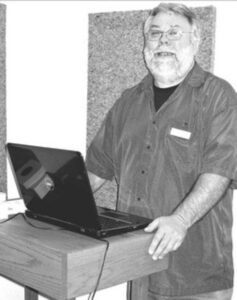 David John Beutel, long time resident of River Falls, passed away on June 25, 2023 at the River Falls Area Hospital surrounded by his loving family.
David was born in St. Paul on August 4, 1954 and grew up in Lake Elmo, MN. He graduated from Stillwater High School in 1972 and went to the University of Wisconsin River Falls, majoring in Communicative Disorders, where he met his wife Kathryn Coozennoy (who he always introduced as his "first wife"). David continued his studies earning his Master's Degree in Audiology in 1983. After many years of teaching speech therapy and working in the industrial Audiology field, David established River Valley Audiology in 2012. Believing in giving back to the community, David was involved for many years with River Falls youth sports by coaching soccer, baseball, and hockey for his son's teams. He also recently volunteered at the River Falls Food Pantry.
David is survived by his still first and only loving wife, Kathryn "Toots", son Anders (Kerry) and granddaughter "Princess" Haylen, son Matthew and grandson, Michael, who he had a special bond with. David is also survived by his brothers Doug, Donald (Mary), Dale (Dory), sister Julie, as well as nieces and nephews, in-laws, and countless friends. He was preceded in death by his parents, Erwin Donald and Joan Beutel, brother Daniel Beutel, Grandparents Erwin and Vera Beutel, Uncle Bruce and Aunt Arline Beutel, Aunt Mildred Beutel, and maternal Grandparents Robert and Mary Barrett.
David was a devoted husband, father, grandfather, and brother whose greatest joy was his family. He was a man of kindness and integrity and we will all miss his limitless love and good nature. David was known for his positive attitude and for striving for nothing less than excellence. He cared deeply for his patients and shared many stories, joys, and sorrows with them, offered encouraging words and was always willing to listen and do whatever he could to help them. He appreciated good conversation and enjoyed getting together for coffee with his friends (the "regulars") to discuss and solve the problems of the world. David was a huge sports fan – he was the go to guy for any sports trivia and especially enjoyed golfing, hockey, attending sporting events, and working outdoors. He loved his time "up north" at the Apple River in Amery, WI enjoying the solitude and beauty and working on building his "shed" with his sister Julie and grandson Michael. David, Julie,and Michael made a great team!
Special thanks to David's sister, Julie Beutel, for her unwavering, loving support and help.
A  Memorial Service was held on Tuesday, July 18, 2023 at 5 pm at Bakken-Young Funeral & Cremation Services 805 E Division Street River Falls, WI and streamed live through the link just below this obituary.  Visitation was also on Tuesday, July 18, 2023 from 2-5 pm at the funeral home.  Interment was in Christ Lutheran Church Cemetery in Lake Elmo, MN.  Arrangements are with Bakken-Young Funeral & Cremation Services.
click here to watch the recording of David's service