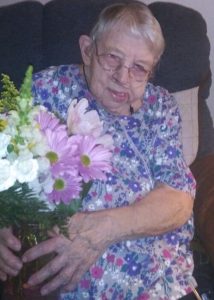 Darlene Hackman, age 82, died on Wednesday, August 17, 2022 at Lakeview Hospital in Stillwater, MN. Darlene Hackman was born to Timothy Hills and Grace (Jones) Hills on May 10th, 1940, in Sarona, Wisconsin. Darlene attended the one room school in Spring Brook, Wisconsin, garnering a 9th Grade education. Darlene was first married in St. Paul, Minnesota at Redeemer Lutheran Church; the marriage lasted 11 years and ended in divorce. Darlene remarried twice over, both marriages ending in the death of her respective husbands, Calvin Lamke and Larry Johnson.
In her young adulthood, Darlene worked a host of laundry jobs, specializing in hospitality at the Midway Motel in St. Paul, Minnesota. Her years in hospitality and long years as a loving mother led her to be a champion of compassion and kindness. While yet in St. Paul, raising her family, Darlene's compassion became a personal ministry among the Gospel Mission Ministry (Salvation Army), where she became a mainstay in serving Sunday lunches to the poor and the homeless. Darlene will be remembered for the depth of her compassion, reflected in the stories she kept as well as numerous poems she authored.
Darlene is preceded in death by her parents, Timothy, and Grace Hills; spouses Calvin Lamke and Larry Johnson; siblings Phyllis Klinger, Maxine Crosby, Irene Faber, and Barbara Johnson; children Gregory Lamke, Sherry Lamke, Timothy Mark Lamke, and Scott Lamke.
Darlene is survived by her children, William Leroy Lamke (Julie), Calvin Lamke (Barbara), Randall Lamke (Sonja), and Lorrie Lamke; siblings Harold Hills (Betty) and Leroy Hills (Jean); many grandchildren and great-grandchildren. Cremation services provided by Bakken-Young Funeral & Cremation Services.