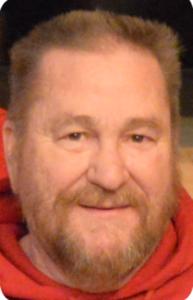 Daniel Simon, age 65 of Balsam Lake, WI and formerly of River Falls, WI, died on Saturday, February 26, 2022 at Lakeview Hospital in Stillwater, MN.  Dan was born on May 7, 1956 in Hudson, Wisconsin to Raymond (Bud) and Jeannette (Fasbender) Simon. He was the 7th of 11 children. He graduated from River Falls High School in 1974 and served in the Army active duty for 5 years and Reserves for 12 years. Dan married Lorri DeMotts in 1979 and together they raised four wonderful children, of whom he was so proud. He was blessed with three awesome grandchildren and six noisy grand dogs. Dan retired from Andersen Corporation after 38+ years and moved to the family cabin on Blake Lake.
Dan enjoyed spending his time at the lake with family and friends. He also enjoyed hunting (he was the dead eye of the family), fishing, working in The Workshop, and sitting on the deck with a view of the lake and wildlife.
Dan loved our country, the flag, and our military.
Dan is survived by his wife of 42 years, Lorri. Children: Mark and Crystal (Thooft), David, Joshua, Stephanie and Joshua Pinkos. Grandchildren: Dolley, Raymond, and James. His mother: Jeannette Simon. Brothers and sisters: Raymond (Si) and Virginia Simon, Sandy and Gary Schommer, Judy and Roger Graetz, Sue and Terry Malmer, Debbie and Rollie Johnson, Sherry and Scott Peters, and Patrick and Marilyn Simon. Brother-in-law: Bob Muller. Sister-in-law: Pam Pearson. Parents-in-law: Lloyd and Shirley DeMotts. He is also survived by many, many nieces, nephews, and other relatives.
He was preceded in death by his father Raymond (Bud) Simon, stillborn sister Violet Simon, brother David Simon, sister Nancy Muller, and brother-in-laws Joey Johnson and Kenny Dunn.
Thank you to our families for their love and support. Thank you to our lake neighbors for their help and to the staff at Lakeview Hospital who helped care for Dan and our family. The nursing staff was exceptionally kind and compassionate.
If you knew Dan, you knew he did NOT like to dress up…. So please dress casually!  A Celebration of Dan's Life was held on Thursday, March 3, 2022 from 3-7 pm with Military Honors at 6 pm at Bakken-Young Funeral & Cremation Services 805 E Division Street River Falls, WI.  In Lieu of flowers, memorials are preferred to Dan's family or the Fletcher-Pechacek American Legion Post 121 to be used to honor veterans and active duty members of the armed services by promoting pride in the United States of America.  Arrangements are with Bakken-Young Funeral & Cremation Services.