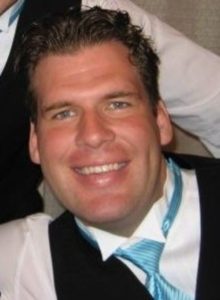 Dan Riley of St. Louis Park, MN passed away unexpectedly on August 9th, 2018 at the age of 45. Dan was born on May 24th, 1973 to proud parents, John Hageman and Kathleen Riley in Fridley, MN. Growing up in Southeast Minnesota, Dan was quite the athlete, constantly surrounded by friends and his passion for the game of basketball. Dan attended Red Wing High School went on St Cloud State University and played collegiate basketball for Viterbo University in Wisconsin, were he graduated with a Bachelor of Science degree.
Dan was a remarkable professional. He loved working in the healthcare industry, specifically in the medical sales field leading to him winning several awards as "salesperson of the year" and "district sales leader".
Dan was an enlightened spiritual person whose belief translated into his day to day life as he would give his friends, family and those around him advice from the heart as well as always making sure he was there to lend an ear to those in need.
As an avid animal lover, Dan definitely had a special place in his heart for his prized "pup", Pepper, who he treated as if it was his own child. Dan enjoyed life by spending time with and being there for his friends, hosting poker games at his home, boating around Lake Minnetonka, biking for miles around the metro area, planting tomatoes in his yard, singing karaoke, being the best music/movie enthusiast however regardless of what he was doing, Dan was always there for anyone. The most important things in Dan's life was always being a father to his son, Little Daniel, and being there for his family.
Dan was a truly special human being who had a way to bring everyone together. You felt fortunate to be part of his life as he felt the same welcoming you into his. Dan will be remembered for someone who was full of love, fun, caring, goofy and loyal. His infectious laugh, smile, and genuine personality will be greatly missed by all who knew him.
He is preceded in death by his father, John Hageman, mother, Kathleen McCabe (Riley) and cousin, Jason Setter. Dan is survived by his sister, Jessica Riley; brother, John Hageman Jr.; his son, Daniel Riley; his nieces, Camryn Richards, Laila Hageman; and nephew, Logan Richards. Not to forget, the Aunts, Uncles, Cousins, and Many, Many Long-Term Friends who love him dearly.
A Celebration of Dan's Life was held on Saturday, August 18, 2018 from 12 pm – 3 pm at the Bakken-Young Funeral Home (502 3rd Street Hudson, WI 54016). Arrangements are with Bakken-Young Funeral & Cremation Services of Hudson.