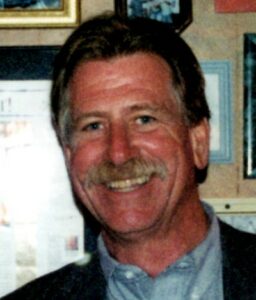 Daniel Dwight Harshman, 76, passed away December 27, 2022, in New Richmond, WI after a six-year battle with cancer. He is survived by his loving wife, Barbara, who helped him immensely through that battle.
He was born December 6, 1946, in Minneapolis, MN to John Alvin Harshman and June 'Betty' Kline Harshman, who both preceded him in death.
Dan was raised in Fridley, MN primarily, but spent some elementary years in Ardmore, OK. Those years instilled a bit of cowboy in him which lasted throughout his life. I'd say he liken himself a 'Sheriff' or 'Good guy' with a bit of a wild side instead an 'Outlaw'. There was always a special place in his heart for Oklahoma and Texas.
He attended Fridley High School where he enjoyed football and track. He graduated in 1964 and soon after joined the US Army in April 1965.
Daniel served in the US Army and Minnesota National Guard until February 1992, retiring as a Major. Most of his service in the Military Police. He honorably retired after 27 years and earned many medals and merits. He said the military taught him how to learn and credited his experience as foundational in his younger adult years.
Dan also served as a Saint Paul Police Officer for 30 years. He was appointed Emergency Patrolman on February 25, 1970; was certified Patrolman on March 23, 1970; was promoted to Sergeant on April 1, 1978; was appointed Acting Lieutenant for a period starting on May 13, 1984, again on April 18, 1993, and a third time on January 9, 1994; and retired on November 30, 1999. During his service he was a Patrolman, CIRT Sergeant, Homicide Detective, Arson Detective, Acting Lieutenant, and Commander of the Mounted Patrol.
He loved his family; his parents, John and Betty; his siblings, Celia (Eileen Bonkoski) Harshman, Jerry Harshman, Tom (Kim) Harshman and Paula (Nancy) Arnold; his wife, Barbara (nee Roemer) Harshman; his children, Suzi (Kevin) Holm, Lisa Carpentier, Timothy (Marcie Wacker) Harshman, Rachel Carpentier, Marc (Krista) Harshman, Pamela (Tom) Spencer, John (Rhonda) Carpentier and Andrea (Robert) Baldazo; his grandchildren, Shelby, Jordan, Matthew, Jake, Madison, Sebastian, Gabrielle, Bella, Chase, Drew, Aubrey, Molly, and Oscar; his extended family, military family, police family and his friends. He also loved his horses, dogs, and cats. Dan always expressed his love with whiskered 'Mooches' and bear hugs.
He enjoyed camping, fishing, hunting and motorcycling, especially motorcycling. Throughout his life Dan logged hundreds of thousands of miles on road trips on his various Harley's with friends and family. Much of which after he retired and relocated to Cleburne, Texas for almost 20 years. Dan was also an active member of the Blue Knights Motorcycle Club for 30 years and an occasional hooligan in Sturgis.
Dan, as I said, was a bit of a cowboy. He enjoyed horseback riding, drove cattle a time or two and even rode a bull once, albeit for only about two seconds before getting tossed. Dan, at times, could have been mistaken for the 'Marlboro Man' and was once even mistaken for Chuck Norris. Most times, Dan was just a cop who loved his job. Both took bravery, confidence, and heart.
Daniel will be greatly missed by many. His charming mustached smile. His free spirit. His wit and sense of humor. His loving heart. 'Go rest high' Sergeant Harshman. Your work on Earth is done.
 A funeral service was held on Thursday, January 12, 2023 at 12:00 noon at Bakken-Young Funeral & Cremation Services (728 S Knowles Ave) in New Richmond.  Visitation was also Thursday from 10:00-12:00 pm at the funeral home.  Private family interment was on Friday, January 13, 2023 at Fort Snelling National Cemetery.  Arrangements are with Bakken-Young Funeral & Cremation Services.
Click here to watch Dan's Funeral Service
In lieu of flowers, donations made to St. Jude in memory of Dan preferred