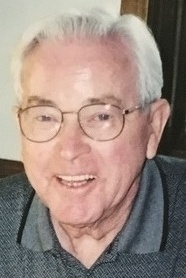 Dale Plumley, age 96, of Hudson, WI, died on Wednesday, September 27, 2017. Dale was born on July 9, 1921 to parents, Willard and Alice Plumley. He went to school at Centerville Elementary and graduated from auto mechanic school in Baldwin in 1938. After completing mechanic school, Dale joined the Army Air Corps in 1942 and served in World War II. Following the military, Dale worked in River Falls at Ginger's Texaco, Lindquist Automotive, and Roen Ford. He married his lovely wife Shirley 68 years ago.
Dale enjoyed roller skating at Centerville Pavilion and dancing. Dale was an honest, loyal, and selfless man. He was a family man and had a dry sense of humor.
Dale is preceded in death by his wife, Shirley; parents, Willard and Alice; siblings, Roy (Ruth), Harold (Grace), Gladys (Vilas) Strumstad, and Esther (George) Pace; and daughter Mary Alice Dettmann. He is survived by his daughter, Sharlene (John) Mondloch; grandchildren, Todd (Melissa) Ellis, Jason Ellis, Brett (Kim) Dettmann, and Dennis Dettmann; eight great-grandchildren, Hannah Ellis, Evan Ellis, Macee Ellis, Logan Ellis, Dylan Ellis, Ashley Dettmann, Bryan Dettmann, and Madelyn Dettmann; and son-in-law, Al (Diane) Dettmann.
A memorial service was held Monday, October 23, 2017 at 11:00 a.m. at the United Methodist Church (127 S 2nd Street River Falls, WI 54022) with visitation one hour prior to the service at the church. Interment was in Greenwood Cemetery of River Falls. Military honors will be performed by River Falls American Legion Post #121. In lieu of flowers, memorials preferred. Arrangements are with Bakken-Young Funeral and Cremations Services of River Falls.