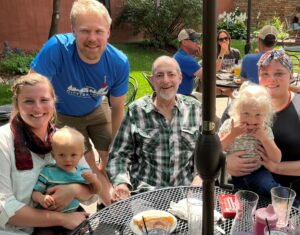 Dale grew up in River Falls and was born the fifth of eight children of Darl and Dorie Hoffman. As a young man, he served in the Army and was quite an enthusiast for anything with a motor. Throughout life, he was one of the most hard-working men you could ever meet! Whether it was manufacturing (like most Hoffman's), private investigating, or starting his own drywall business; he put his skill and heart into his work.
June 10th, 1989 Dale married Susan Markgraf. Through their adventures, the pair packed up and moved to Anchorage, Alaska, where their first daughter, Ashley, was born. Shortly after, they made their way back to the Midwest, particularly Minnesota, where their daughter Lindsey was then born. Dale's daughters were his pride and joy!
From there, Dale settled him and his girls in his hometown of River Falls, Wisconsin where he raised them both. Dale had a taste of adventure and made sure to instill the same in the girls. Whether it be road trips to national landmarks, ski trips to the U.P., trips to cabins on the lake, camping, music in the park, car shows, or stops at Wisconsin Dells, Dale made for them an exciting childhood. One of his biggest achievements for not only him, but the girls, was to quit drinking.
Dale had many hobbies that he enjoyed. He loved playing pool (playing for fun or playing in a league, and with his brother Dan). He was quite a good shot! Another one of his passions was feeling the wind in his face on his Harley and riding with his brother Dave. His enthusiasm for riding grew and he eventually moved to Maiden Rock, Wisconsin to live on some of the most beautiful riding roads.
If you ever had the honor to meet him, you know that at some point he put a smile on your face. He will be remembered for his humor, his strength, his independence, his free spirit, and the love for his daughters and two grandchildren. Becoming a grandpa was another of his most proud moments in life.
He is survived by his daughters Ashley Engh (Matthias Engh) and Lindsey Hoffman as well as both of his grandchildren Signe and Fritz; and siblings, Diane (Richard) Fronek, Denise (Michael) Guell, Doug (Cheryl) Hoffman, Deb (Scott) Dahl, Derrick (Brenda) Hoffman.
He is preceded in death by Daniel Hoffman, David Hoffman, Darl Hoffman, and Doris Hoffman.
A Memorial Service was held on Sunday, November 19, 2023 at 2 pm at Bakken-Young Funeral & Cremation Services 805 E Division Street River Falls, WI with visitation from 1-2 pm at the funeral home.  Arrangements are with Bakken-Young Funeral & Cremation Services.