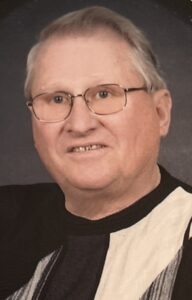 Dale Dennis Beekman, age 83, of Blaine MN, passed away peacefully on Monday evening, April 3rd surrounded by his children at the VA Hospital in Minneapolis. Memorial service will be held 11 a.m.at Faith Christian Reformed Church in New Brighton, MN. Visitation at 10 am. Private interment at Emden Cemetery in rural Renville, MN.
Dale was born on October 10, 1939, in Montevideo, to Falko and Frances Beekman and was raised on a farm located north of Renville, MN. He graduated from Central Minnesota Christian School in Prinsburg, MN and served as an aircraft mechanic in the US Army from 1958 to 1960 in Korea and Japan. Dale married Irma Dykstra from Sibley, IA on June 12, 1962 and farmed in rural Blomkest and Renville areas until 1969. He worked on the I-90 construction project in southern Minnesota while employed by a local construction company and then was hired to be a heavy equipment operator for the Southern Minnesota Beet Sugar Cooperative near Renville, MN where he operated cranes, backhoes, dozers and front end loaders for almost 30 years. In 2002, Dale and Irma moved to Blaine, MN to be closer to their children and grandchildren. Dale loved planning family vacations, texting his grandchildren and going to their concerts and many sporting events through the years.
Dale is survived by his children; Dianne (and Jim) De Penning; Dennis (and Christine) Beekman and Marvin (and Kathleen) Beekman. Ten grandchildren; Darrin (and Grace) Beekman, Katelyn (and Rob) Niznik, Rebekah De Penning, Abbie Beekman, Joseph De Penning, Samuel (and Rylie) De Penning, Katherine Beekman, Andrew Beekman, Matthew Beekman and Daniel Beekman. Two great grandchildren Olivia and William Beekman. Two brothers; Merlyn (and Helen) Beekman and Eugene (and Anna) Beekman; sister-in-law Marilyn Zevenbergen, brother-in-laws John (and Alice) Dykstra and Bill (and Helene) Dykstra, along with many nieces and nephews.
Dale was preceded in death by his wife of 42 years, Irma; his parents Falko and Frances Beekman, sister Darlene, brother Daniel; his father-in-law Mella Dykstra and mother-in-law Dorothy Dykstra, sister-in-law Dorothy Mae Dykstra, and brother-in laws Dick Dykstra and Don Zevenbergen; and niece Debra Newhouse.
A Funeral Service was held on Monday, April 10, 2023 at 11 am at Faith Christian Reform Church 1600 Silver Lake Road New Brighton, MN 55112 and streamed live through the link just below this obituary. Visitation was also on Monday from 10-11 am at the church. Interment was in Emden Cemetery in Renville, MN. Arrangements are with Bakken-Young Funeral & Cremation Services.