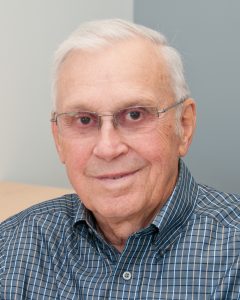 Curtiss Arden Anderson, age 87, of New Richmond, WI passed away May 24, 2017.
He married Elaine LaMirande in 1951 and they enjoyed 66 full years together in New Richmond where they raised their family and engaged actively in church and community.
Curt was born and raised in Star Prairie, the oldest child of Hartford and Pearl (Mork) Anderson.  He devoted his 67-year career to the customers and employees of Johnson Motors.  For Curt, it was more about the people than the cars.
Curt is survived by his wife Elaine, children Mick (Connie), Michele (Jim) Hermansen, and Marin (Kevin) Hansch; grandchildren, Chris Anderson, Greg Anderson, Chad (Mandy) Anderson, Stephanie (Mitch) Campeau, Scott Anderson; Kristi (Jeff) Johnson, Jacci (Ryan) Fedeler, Ryan Hansch, Kayla Hansch; great-grandchildren, Cale Anderson, Caden Anderson, Etta Campeau, Michaela Campeau, Jaxon Fedeler, Bradyn Fedeler, Elin Johnson; brothers Owen (Roxann), Larry (Susan) and sister Carrie (David) Peterson, sisters-in-law Margaret Anderson, Ione Belisle, Angie LaMirande and Sally LaMirande, and brother-in-law Roger (Trudy) LaMirande.  Preceded in death by parents, brother Dwight, infant brothers John and Wendell, sister-in-law, Gloria (Wilbur) Ostendorf and brother-in-law, Joseph LaMirande Jr.
Visitation Friday, May 26, 4-7 pm at Johnson Motors with Masonic Service at 7 pm.  Celebration of Life Sat., May 27, 11am at First Lutheran Church, 218 County Trunk K, New Richmond with visitation one hour before.  Memorials preferred in lieu of flowers to First Lutheran, Westfields Hospital Foundation or Shriners Hospital for Children Twin Cities.
Arrangements are with Bakken-Young Funeral & Cremation Services Beebe Chapel of New Richmond.