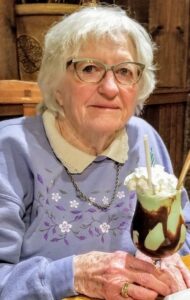 Colette Mary (Salmon) Ruemmele, 94, of Hudson, died peacefully on March 14 at River Falls Area Hospital after a brief illness. Colette was born on March 4, 1929, the seventh of 11 children to John P. and Honora A. Salmon in New Richmond, Wisconsin.
Colette was raised on the family farm in Cylon, WI and graduated from New Richmond High School in 1947. She furthered her education with a Nursing degree from St. Catherines college in St. Paul, MN. The Salmon family eventually settled on a farm south of Hudson, where she met her future husband, James Ruemmele.
Along with a successful career in nursing, Colette was an accomplished seamstress, knitter and tatter. Many people were the beneficiaries of Maid of Honor dresses, Prom Suits, school clothes and fisherman knit sweaters that she created through the years. She was also an accomplished baker, making cinnamon rolls and delicious buns every Saturday that she shared freely with others.
Colette also immensely enjoyed her time playing golf at Clifton Hollow, playing cards, being a 4-H leader for the Troy Trojans, being a devoted parishioner and volunteer at St Patrick's church, and being a fierce supporter of her six children.
Colette is survived by her children, Rochelle (Frank) Kugel, Richard (Ruth Giron) Ruemmele, Larry (Mary Ann) Ruemmele, Bridget Ruemmele, Maureen Fassbinder, and Will (Denise) Ruemmele. She is also survived by six grandchildren, Amanda, Liz, Molly, Jenny, Jake and Kady; four great grandchildren, Haley, Reagan, Aubrey, and Tao; and many cousins, nieces and nephews.
In addition to her parents, Colette was preceded in death by her husband, James Ruemmele; son-in-law, John Fassbinder; siblings, Eleanor Salmon, an unnamed infant sibling, Mary (Don) Fischer, Rita Salmon, John (Harriet) Salmon, Barbara (Ed and Leo) Doody, Honora (Terrance) Lynch, twins Tom and Joan Salmon, and Eloise (Ed) Abbott. She was also preceded in death by in-laws, Dorothy (Enos) Smith, Marjorie (Charles) Gavin, and Rita (Douglas) Jenkins; and parents-in-law, Jacob and Amelia Ruemmele.
A Mass of Christian Burial was held Friday, March 17 at 11 am at St Patrick's Catholic Church in Hudson. The family welcomed guests at a visitation at the church one hour before the service. Everyone was encouraged to wear their best St Patrick's Day outfit to honor Colette's favorite color and the special day. Interment was in St. Patrick's Cemetery in Hudson. Arrangements are with Bakken-Young Funeral & Cremation Services.