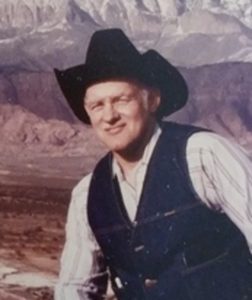 Clyde Herman Holt, age 87, of Maiden Rock, Wisconsin, died June 1, 2017.  He was born June 23, 1929 in Chehalis, Washington, the first of nine children of Vernon and Matilda (Kempf) Holt.
He grew up in the rural areas of Plum City, Maiden Rock and Bay City communities, attending grade school and high schools in those areas.
In 1949 he married Marilyn Jeanne Pfluger.  They had seven children; Sally, Dan, Kathleen, Pat, Nathan, Kelly and Carolyn.
Clyde was a carpenter by trade, working for construction companies in Wisconsin, Kansas and Texas, as well as an over the road truck driver in his later years.
At the age of 28, he accepted the Lord as his personal Savior and committed his life to the ministry.  He went on to establish a community church and pastored for fifteen years.  He was also actively involved in street ministry, small Bible groups, prison ministries and a weekly radio program.
He composed several Christian songs, wrote poetry and authored a book titled, "Tri-Unity".
He was looked upon as a leader of faith and many people benefited from his counsel throughout the years.
One of his greatest joys was to share the Gospel with those he met on his earthly journey through life.  That journey has now taken him to his eternal home where he is in the presence of his Lord and Savior.
Clyde was preceded in death by his parents, an infant brother Eldon, a brother Norman, and two sisters, Edith and Doris.  He was also preceded in death by an infant granddaughter, Suzanne.
He is survived by his seven children, twenty grandchildren, nineteen great grandchildren, his siblings; Inez, Marshall, Lois, and Dorothy, as well as many nieces, nephews and friends.
A Memorial Service will be held on Friday, June 23, 2017 at 5 pm at Living Waters Christian Fellowship 253 S Piety Street Ellsworth, WI 54011.  Visitation will also be on Friday, June 23, 2017 from 3-5 pm at the church.  Arrangements are with Bakken-Young Funeral & Cremation Services of River Falls.