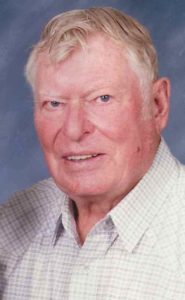 Clifford John Nelson, of Star Prairie, WI, passed away peacefully on Wednesday, July 31, 2019 at the age of 95. Cliff was born on July 11, 1924 to Arnold and Marie (Peper) Nelson. In 1952, Cliff married Eldora (Renspe) Nelson, the love of his life. Together they established a Hobby Farm, raised a beautiful family of seven, and spent 63 years enjoying each other's company.
Cliff retired from St. Croix Health Center in 1992 where he spent 33 meaningful years embracing his knack of fixing things as Maintenance Manager. Naturally, one job wasn't enough, so Cliff also spent a number of those years managing Housekeeping and assisting the Nursing staff. Cliff also worked part-time at Utgaard's Hatchery over the course of his life, because his true passion was agriculture.
Cliff was genuinely, a kind and generous person; even as life came full circle, he expressed nothing but gratitude. He truly lived life to the fullest, through simple pleasures; from dancing with his wife, spending time with his family and friends, to fishing and traveling. Cliff will be remembered for his exceptional memory; and was notorious for his story telling, humor and shenanigans.
Cliff is survived by six children; Linda Melnik, Becky Allers, Randy Nelson, David (Barb) Nelson, Lisa (Frank) Sonson, and Gary (Dawn) Nelson; eleven grandchildren, Amber, Chad, Kelly, Justin, Jeremy, Megan, Brandon, Ryan, Allison, Grant and Hayden; twelve great-grandchildren, Sydney, Lindsay, Haylee, Delanee, Maddie, Jayden, Tanner, Olivia, Paisley, Adalynn, Alana and Logan; Brother, Gene; sister-in-law, Alva; many nieces, nephews, and extended family and friends. Cliff was preceded in death by his parents, Arnold and Marie; his wife, Eldora and their daughter, Cheryl; two sisters, Pearl Lumsden and Leona Meehl; two brothers, Vern and Warren Nelson. In lieu of flowers, memorials preferred to St Croix Health Center (1445 N 4th Street, New Richmond, WI 54017).
A Celebration of Life was held Saturday, August 10, 2019 from 11-3pm at Bakken-Young Funeral & Cremation Services (728 S. Knowles Ave. New Richmond, WI 54017). Luncheon was served throughout the celebration. Private family interment was in Oak Grove Cemetery in East Farmington, WI. Arrangements are with Bakken-Young Funeral & Cremation Services.