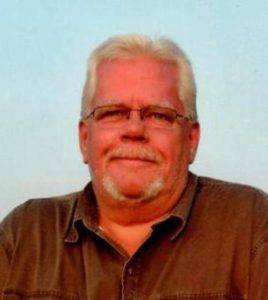 Chris Douglas Lundell, age 66 of New Richmond, Wisconsin, passed away peacefully on Saturday June 1, 2019 at Regions Hospital, surrounded by family.
Chris was born on June 11, 1952 to Harold "Dedo" and Margy (Skagen) Lundell at Holy Family Hospital in New Richmond. He was baptized at the Federated Church in New Richmond on September 7, 1952, with Earl and Marie Skagen as his Godparents.
Chris had a great childhood growing up on N. Green Avenue, with wonderful neighbors, friends and the picturesque Mary Park in the background. The park would bring many wonderful memories for Chris and his family throughout the years. The house on N. Green would serve as a hub for friends and family to pop in. Even in his adult years, whether it was Saturday mornings for donuts or 6:00 for dinner, you had a pretty good chance of finding Chris at "home". He loved sitting on the deck in the evenings, watching the traffic in and out of the park, counting cars on the trains, playing with the cats and enjoying conversation with whomever might stop by.
Chris' first job was at 15, working at the Terrace Supper Club on weekends, scrubbing rib pans, then bussing tables (which was a promotion in his eyes). From 16-18, he worked at Krueger's Super Valu carrying out groceries and stocking shelves. From 19-21, he worked as a life guard and swimming instructor at the Mary Park municipal pool. From 20-21, he worked winters at Snow Crest Ski Area, and from 21-22, he worked at Bernard's Northtown in the Parts Dept.
Chris graduated from New Richmond High School with the Class of 1970. In high school, he, along with five friends, formed the band "The Proud Crowd". He had great memories of this time with the band. After graduation, he attended UW-Eau Claire (1970-71), UW-River Falls (1971-72) and Eau Claire Technical College (1972-73), where he earned his degree in Law Enforcement. He joined the New Richmond Police Department on October 8, 1974 and would enjoy his life as a police officer for almost 28 years, until his retirement in July 2002. When Chris became a police officer, he knew he found his calling. He loved serving the community and always thought he treated people fairly when it came to enforcing the law. He was proud of the relationships and friendships he made in the community while working.
Chris married Renee Bentley on May 22, 1976 at The United Methodist Church in New Richmond. They were blessed with two children, Kristi Lynn and Christopher Harold, and divorced in 1986.
In 1987, Chris became the on-site manager for Creekside Apartments, and would remain as manager until January 2019. The job began as overseeing 24 apartments, then 48 and finally 108. Although hectic, stressful and bothersome at times, he really did enjoy the job and took pride in it. In 2001, Wally Nelson and Brad Morrow bought the properties and they all became great friends. He treasured their friendship over the last 18 years and said he couldn't have asked for better bosses.
Beside managing the apartments and working as a patrolman for NRPD, Chris was also the city's Animal Control Warden (aka dog catcher) for almost 20 years. This job connected him with even more people in the community.
Chris loved fishing. Any kind of fishing. He was especially fond of his time spent at the Helling family cabin on Big Sissabagama over the years. He enjoyed many trips to Canada with family and friends, and looked forward to spending Father's Day each year with Christopher in the boat. He enjoyed ice fishing, but probably enjoyed building his ice shacks even more. His last fishing trip was a windy day this past April, on Wapo/Bear Trap with John Helling. Chris also loved deer hunting, but never kept the meat. He always had someone he knew he could give it to. The same with fish. He loved sharing his daily catch with family and friends. When it came to hunting, Chris went out every opening weekend, no matter what the weather was like, because he simply enjoyed the experience. He also enjoyed many trips throughout the years hunting antelope, mule deer and pheasants.
Chris had a passion for agates. At an early age, Margy taught him how to hunt for agates and that stayed with him his entire life. He could never pass up a rock bed or a newly plowed field, hoping to find a treasure. He also had an interest in buying and selling other rocks, stones and gems- forming his own business "RS&G" in the 1990's.
When you think of Chris, you immediately think of his white hair and bright blue eyes. You also think of him riding around town on his scooter.  He was an avid Packer, Brewer and Badger fan.
One of the many things that Chris passed on to Kristi was his love for music. She received an early education on Led Zeppelin, Queen, Cheap Trick and many more of his favorite bands. Chris thought it was great to be able to pass down his collection of 8-tracks and vinyl records to her a few years ago.
Chris loved spending time with his three grandsons, Wesley, Paxton and Myles. He wore the badge of Bumpa with great honor. He enjoyed building gifts for the boys, planning out every last detail. Those projects included a rocking horse, toy box, picnic table, benches, a sandbox and a play table. He loved sitting at the edge of the river, watching them toss rocks and chase the ducks.
Gifts from Chris were special. He thought long and hard what to get a person. Although some of his gifts were "unique", they were always from the heart- especially if they were wrapped in tinfoil and/or duct tape.
Chris will be deeply missed by his daughter Kristi (Jason) Rogers of New Richmond, WI, son Christopher (Noelle) Lundell of Champlin, MN, and grandsons Wesley, Paxton & Myles Lundell. He is also survived by his brother Eric Lundell Sr. of Hudson, WI, niece Emily (Cory) Fett, nephew Eric (Jenna) Lundell Jr., five grand nieces and nephews, and sister-in-law Roseanne Lundell. He is preceded in death by his parents and infant sister Lynn Evelyn Lundell.
Chris was a list-maker, for everything. A list for all of his tackle, meticulous packing lists for fishing/hunting trips, complete lists of every vehicle he'd ever owned, lists for his agates and rocks, and on and on… To honor Chris' last list, a celebration of his life will be held on a Saturday close to his birthday. We invite everyone to join us on Saturday, June 15, 2019, from 11:00am – 3:00pm, at Bakken-Young Funeral and Cremation Services, 728 S. Knowles Avenue New Richmond, WI. Honorary pallbearers are Jack Beebe, Mike Driscoll, Cory Fett, Harvey Gleason, John Helling III, Wayne Hove, Craig Jameson, Eric Lundell Jr., and Jason Rogers.
Arrangements are with Bakken-Young Funeral & Cremation Services.