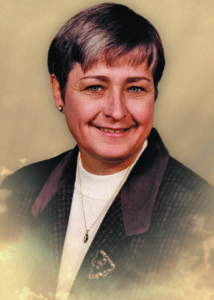 Catherine Ann Tappe, age 70, of Amery, passed away on Saturday, January 11, 2020 at Luther Hospital in Eau Claire due to complications from surgery. Catherine was born the daughter of Paul and Angeline (nee Vander Plaat) Nothom on March 10, 1949 in Virginia Beach, VA. She graduated from Durand High School, class of 1967. Catherine married Gale Tappe on August 2, 1969 in Durand at St. Mary's Catholic Church. She worked for Home Oil in the 1980s and early 1990s. Catherine loved quilting, sewing, knitting, and crocheting. She also enjoyed working in her garden and caring for her flowers. She designed three of her houses with her degree in Architecture. Catherine was ambitious and determined. She always made an effort to attend all of her grandchildren's events. Catherine had a few favorite sayings "Never make me late to church" and "Never lie to me."
She is preceded in death by her parents, Paul and Angeline Nothom; grandson, Mark Galen Magler; brother-in-law, Michael Orgel. Catherine is survived by her husband of 50 years, Gale; children, Karen Magler, William (Jackie), and Elizabeth Knops; grandchildren, Keith, Catherine, Amanda, and Angela Magler, Cole and Emma Tappe, Thomas, Timothy, Joseph, and Ashley Knops; siblings, Charles (Cindy) Nothom, Theodore (Sue) Nothom, Mary Orgel, Jane Supri, Maggie (Kevin) Pierskalla; and many other nieces, nephews, relatives, and friends. In lieu of flowers, memorials preferred.
A Memorial Mass of Christian Burial was held Saturday, January 18, 2020 at 11:00am at Immaculate Conception Catholic Church (151 South Washington Avenue) in New Richmond with a visitation one hour prior to the Mass. Arrangements are with Bakken-Young Funeral & Cremation Services.