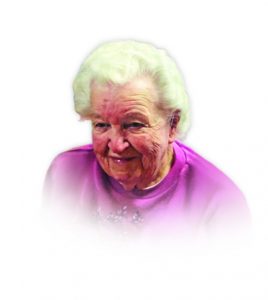 Catherine (Glumske) Danielson, age 92, passed away peacefully at Birch Haven Assisted Living in Baldwin, WI on Tuesday, August 9, 2016.
She was born in Norwalk, WI on May 17, 1924 to John and Myrle Glumske.  She graduated from Spring Valley High School in 1941.  She then earned a 2 year teaching certificate from River Falls Teachers College.  She married Thomas Danielson on July 3, 1944 at her parents' home.  She taught one year and then devoted her life to raising her children.  Later in life she worked as an aide at various nursing homes in the area.  It was a job she truly loved.
Catherine was preceded in death by her husband, Tom; brother, John Glumske; sister, Doris Andreason; and 3 infant granddaughters.  She is survived by her daughter, Sandra (Ray) Meglic; sons, Larry (Ruth), Barry (Karen), Eric (Patty), Craig (Dory), Todd, and Thomas, Jr.; numerous grandchildren, great-grandchildren, and one great great-grandchild.
Catherine was a private person who derived her enjoyment from her family, sports (especially baseball), and audio books.
Her family would like to extend a heartfelt thank you to the caring staff at Birch Haven Assisted Living.
A Memorial Service was held on Friday, August 12, 2016 at 2 pm at the Bakken-Young Funeral Home 805 E Division Street River Falls, WI.  Visitation was also Friday from 1-2 pm at the funeral home.  Private interment was in the Rush River Lutheran Church Cemetery.  Arrangements are with Bakken-Young Funeral & Cremation Services of River Falls.