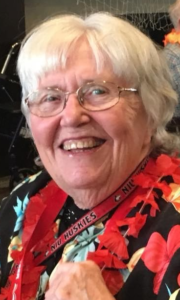 Carol J. Ruyle (nee Hakala) age 79 of Saint Louis Park, MN, formerly of New Richmond, WI, died Friday, November 16, 2018, at Walker Methodist Health Center in Minneapolis.
Carol was born on January 22, 1939, in DeKalb, IL to Toivo and Ingrid (Maki) Hakala. She graduated valedictorian from DeKalb High School in 1957, and went on to earn her Bachelors degree from Northern Illinois University, where she met her husband and best friend, J. William "Bill" Ruyle, whom she married in 1963. Carol completed her Masters degree at Adams State University in Alamosa, CO. In her career, Carol taught English at Larkin High School in Elgin, IL and Speech Communication at Carthage College in Kenosha, WI. She applied her love of reading and books to her work at the Skokie Public Library, and in the Rare Book Room and Interlibrary Loan at Illinois State University in Normal, IL. For eight years Carol worked as a volunteer in the New Richmond Middle School library.
Carol was very talented in textile arts – weaving, knitting, and sewing. Her passion was knitting, and she was famous for her Father Christmases with hand knit tunics, caps, and robes reflecting various cultural heritages. Carol was proud of her own Finnish heritage, helping to plan a Finn Fest in her hometown, baking Finnish breads, and incorporating Finnish design into her knitting and weaving. She used her incredible eye for aesthetics to help design the home she and Bill built in New Richmond for their retirement.
She is survived by her husband Bill; her daughters Nancy (Anthony) Paul and Wendy (Tim Uren) Ruyle; her sisters Lois Baccof and Sally (Oscar) Forsman; her brother-in-law Bob (Amy) Ruyle; nieces Sinikka (Kevin) Jacques, Aleksandra Forsman, and Julie (Mike) Weatherby; nephews Brooks (Gracie) Ruyle and Clayton (Alyssa Carlson) Ruyle; and many grand nieces and nephews. She is preceded in death by her parents Toivo and Ingrid (Maki) Hakala; parents-in-law Orland and Zona (Beger) Ruyle; brother-in-law Richard Baccof; and niece Lisa Baccof. A celebration of Carol's life will be held on Saturday, June 15, 2019 beginning at 2:00 pm with a short service at 2:30 pm at the Old Gem Theater (166 S Knowles Ave.) in New Richmond.  In lieu of flowers, memorials are preferred to the Michael J. Fox Foundation. Cremation services provided by Bakken-Young Funeral & Cremation Services of New Richmond.