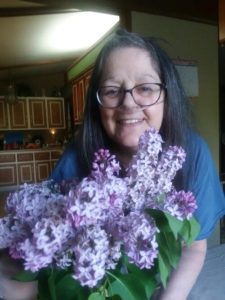 Carol Newman, 64, of New Richmond passed away at home surrounded by her family on July 28, 2022 after a long battle with COPD.
Carol was born in St. Paul, MN and later moved to New Richmond, WI with her family. She was one of nine children. In 1973 she married Alan Sylte Sr. and had a daughter Christine. She later married Darrell Schjenken and had a daughter Kelsie. In 1998 she met and later married the love of her life, Craig Newman. Craig had three children, Jason, Jami, and Cory and this completed their family.
Carol was a welder by trade. She was one of the first women to complete the welding course at, what is now known as, Northwoods Technical College. She was a welder until her retirement in 2000.
In her younger years, Carol was an avid pool player and often dominated the pool table. She was a pool shark who competed and consistently placed in the top three in tournaments.  She later developed a passion for reading horoscopes and astrology. She loved reading and watching true crime documentaries. Most recently Carol spent her time doing various crafts and art projects often dabbling in several at a time. Her family will always remember her for her famous "rock hard" fudge, love of any kind of pasta, The Beatles, and the Milwaukee Brewers.
Carol and Craig loved to gamble together. They spent their time at Turtle Lake Casino playing the slots. Her favorite was The Sun and The Moon slot machine where she always had great luck. She also loved playing Pick Four Lottery Tickets and kept a ledger of what she spent and her winnings. We can only assume she's found a new favorite slot machine and is having amazing luck using her motto of "You've got to spend it to make it!".
Carol's grandchildren were her pride and joy and she always had sound advice and words of wisdom to offer. She had an awesome sense of humor and would often start shenanigans with the grandchildren via text message and by sending quirky deliveries from Amazon. The latest arrivals were statues of a squirrel wearing a helmet and a hairless meditating cat.
Carol had a great love of dogs. She was always a dog mom to a lap dog that was the ruler of her home. She will be greatly missed by her yorkie Tenly but Carol knew her poodle Brutis would be waiting for her.
In Carol's final days she was surrounded with love and found comfort in her husband Craig, Lynn, her fabulous hospice nurse, her sister Lynn, and her children and grandchildren.
Carol is preceded in death by her parents Wilmer and Virginia (Sallie) Vierling, brothers Keith and Dean Vierling and brothers-in-law, Mike Neinstadt and Kirk Haws.
As much as we weren't ready to let her go, she will be fondly remembered and dearly missed by her husband Craig, her children, Christine (Eric) Lamberty, Kelsie (Adam) Senarighi, Jason (Wendy) Newman, Jami Newman, and Cory Newman. Grandchildren, Alec Lamberty (Abbie), Alexa Lamberty, Owen Newman, Olivia Dombrock, Jack Senarighi, Addison Senarighi, and Eliott Newman. She is also survived by sisters, Joan Alfers, Anita Neinstadt, Lynn Haws (Dan), Teri Russell (Rick); brothers, Glenn (Dianne) Vierling and Dale (Linda) Vierling. Carol will also be remembered by her many nieces and nephews.
A Celebration of Carol's Life was held on Friday, August 19, 2022 at Bakken-Young Funeral & Cremation Services 728 S Knowles Avenue New Richmond, WI with visitation from 4-6 pm, a memorial service at 6 pm and food and fellowship followed the service.  Arrangements are with Bakken-Young Funeral & Cremation Services.