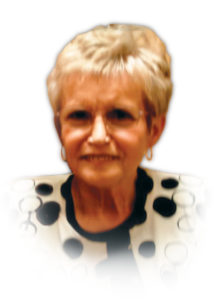 Carol Carlson, age 84, died on Monday, July 19, 2021 at the Saint Croix Health Center in New Richmond. She was born the daughter of Lemoyne and Josephine Geurkink on August 24, 1936 in Baldwin, WI. Carol grew up in Baldwin, graduating from Baldwin High School, class of 1954. Following high school, Carol moved to New Richmond and later married Richard Carlson on May 18, 1957 in Baldwin, WI. She worked for Cox Motors, Hurtis Implement, and retired from Polfus Implement in 2002. Carol loved watching TV, baking, shopping, and spending time outdoors. She adored her grandchildren. Carol was spunky, outgoing, and loving with a witty sense of humor.
She is preceded in death by her husband, Richard; parents, Lemoyne and Josephine Geurkink; daughter, Cheryl; brother, Glen (Lorraine) Geurkink; and brother-in-law, Kenny Kohlrusch. Carol is survived by daughter, Sue; son, Kirk (Trish); grandchildren, Eric and Brandon (Erin) Schmitz, Josephine, Sarah, and Jessica Carlson; sister, Lois Kohlrusch; and many nieces, nephews, relatives, and friends.
A memorial service was held on Monday, July 26, 2021 at 1:00PM at Bakken-Young Funeral & Cremation Services (728 S. Knowles Ave) in New Richmond with a visitation starting at 11:00AM. Interment will be in New Richmond Cemetery. The service was livestreamed via a link below this obituary. Arrangements are with Bakken-Young Funeral & Cremation Services.