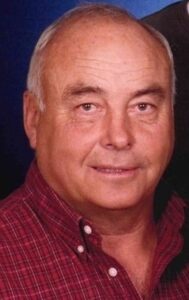 Calvin "Cal" Wayne Powers, Jr.
Cal, 80 years old, from New Richmond, WI went to the loving arms of Jesus on November 17th, 2023 at Hammond Health Services.
Cal was born on May 31, 1943, in New Richmond, WI. He was the first born of ten children. He graduated from New Richmond High School in 1961. As a young man, he joined the National Guards in 1964. He was Honorably discharged in July 1970.
Cal was a man of faith, and the Lord God was his Savior. He taught Sunday School for over 35 years.
Out of high school, he worked with his dad installing sewer systems.   Cal took over the family business in 1963. He was owner and operator of Powers Excavating until he retired in 2011.
Cal loved the great outdoors and adventures. He loved riding his horses and raising his hereford cattle. He enjoyed his cabin and teaching his children how to water ski, fish and hunt. He enjoyed flying his plane and downhill skiing in his free time. He loved his John Deere tractors and working his farmland and giving the grandkids rides on his "Johnny poppers". He rarely missed morning coffee in town with the guys.
He married the love of his life, Phyllis Rondeau, on March 7, 1970. They bought land in 1970 and built their homestead including a working hereford ranch. Cal was a loving husband of 53 1/2 years and a wonderful father to his 7 children and Papa to 9 grandchildren.  Family was very important to him.
Cal was proceeded in death by his 3 children; Bridgett Ann, Bethany Ann and Mark Calvin; parents, Calvin "Bud" Powers, Sr. and Glendetta;  brother Ricky (Debbie); sisters, Janet and Sherlyn; in-laws, Alvin and Rose Rondeau; and sister-in-law, Rosemary.
Cal is survived by his loving wife, Phyllis Powers; children, Marty (Darcy), Becky (Greg) Hermansen, Julie (Tom),  Michael (Jesicca); grandchildren, Kody and Katy Hermansen, Tristen, Bridgett and Hayden Madison,  Dyllan and Ashtyn Powers, Kelsey and Aylssa Powers; siblings Ralph (Jill), Darryle (Renee), Daren (Tammy), Karen (Dave), Brenda (Dave), Perry (Tracie); Godchildren Brenda Lee and Allen; and numerous nieces and nephews.
Funeral services for Cal were Wednesday, November 22, 2023 at 11:00AM at Redeemer Lutheran Church, 600 Keller Avenue South, Amery, Wisconsin with visitation starting at 10:00AM as well as a visitation on Tuesday, November 21, 2023 from 5:00-8:00PM at Bakken- Young Funeral & Cremation Services, 728 S Knowles Ave, New Richmond, Wisconsin.  
Arrangements are with Bakken-Young Funeral & Cremation Services.