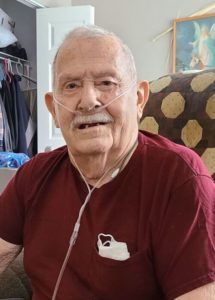 Burnell "Bernie" Berube, age 89, died on Tuesday, July 26, 2022 at Harmony Place Senior Living in Harmony, MN. He was born the son of Thomas and Elizabeth (LeMire) Berube on April 30, 1933 in Star Prairie Township, WI. Bernie grew up on the farm in Somerset, WI and later lived in St. Paul, MN. He married Jacquelyn E. Skiby on February 14, 1953 at the St. Paul Cathedral in St. Paul. Bernie held many jobs throughout the years and his favorite job was with the City of Emily, MN. He was part of the volunteer fire department in Emily. Bernie loved camping, fishing, deer hunting, and tinkering with his cars in the garage and watching Westerns and war movies. He had a unique, dry sense of humor and a good friend to all. Bernie was a loving family man to his wife and children and adored his entire family. His Catholic faith was extremely important to him.
He is preceded in death by his first wife, Jacquelyn; second wife, Tonetta; parents, Thomas and Elizabeth; children, Lynn Stanchfield, Joseph Berube, Mary Kroll; grandson, Joseph Kroll; great-grandson, Carter Phillips; and nine brothers and sisters.
Bernie is survived by his daughters, Susan (Bob) Phillips and Debra (Mark) Tomasino; grandchildren, Tracy Kline, Erin Verde, Daniel Stanchfield, Katie Berube, Bill Phillips, Mike Phillips, Chad Phillips, Justin Kroll, Sasha Haider, Shauna Kroll, Wade Brelje, Jacquelyn Brelje; 24 great-grandchildren; sister, Rita Gillis; brother, Gean Berube; and many nieces, nephews, relatives, and friends. In lieu of flowers, memorials are preferred.
Mass of Christian Burial was held on Monday, August 1, 2022 at 10:00AM at St. Anne's Catholic Church (141 Church Hill Road) in Somerset, WI with a visitation one hour prior to the Mass at 9:00AM. Interment was in St. Anne's Catholic Cemetery in Somerset. Luncheon followed the interment at the cemetery. The service was livestreamed via a link below the obituary. Arrangements are with Bakken-Young Funeral & Cremation Services.