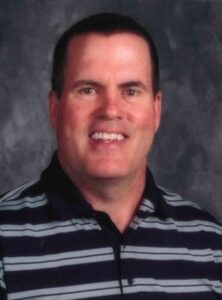 Bryan Hop, known to many as Hopper or Mr. Hop, passed away peacefully and surrounded by family on Thursday, May 18th after a courageous battle with cancer.
He was born to Jo and Bruce Hop on September 25th, 1966 in New Richmond, Wisconsin. Many of his favorite childhood memories came from summer time in Forest River, North Dakota with his cousins and playing baseball/football with his friends.
After graduating from New Richmond High School in 1985, he went on to attend the University of Minnesota and worked as a trainer for the football team. He also worked in the rehab department at Fairview Riverside, where he met the love of his life, Gwen.
Bryan and Gwen were married on August 28th, 1993. They loved to travel and go antiquing, even having a space to sell antiques in a shop in Prescott, WI. In 1995, they purchased their biggest "antique," a beautiful old house built in 1916 on North Starr Avenue in New Richmond.
It was in this house they raised their 3 children, Jack, Russ, and Anna, who were his pride and joy. He never missed an opportunity to support his kids at school and sporting events, including soccer, basketball, tennis, volleyball, baseball, football, and cross country. He frequently packed others into his minivan to make sure all could be in attendance! Bryan also enjoyed family trips, particularly snorkeling trips in the Caribbean and road trips to visit relatives in North Dakota and Montana.
Bryan worked many jobs over the years, including Human Resource Specialist after graduating from Concordia University and selling cars at Bernard's Northtown. Though he enjoyed his time with his co-workers, he was drawn to return to school at UW-River Falls in 2004 to earn his master's degree in education. For the past 17 years, he was a beloved teacher in New Richmond. His previous experiences and compassion for others was reflected in his unique teaching style that was beyond the basics, including pen pals with elderly in the community, adopting families in need at Christmas and teaching his students to play cribbage.
Bryan went out of his way to help others and never expected anything in return. From serving meals at holiday dinners, to helping out local families in need, to assisting young drivers with behind the wheel training, to stopping along the side of the road to assist strangers, he always wanted to help people.
He loved spending time with his family, playing cards with friends and neighbors, finding great deals at garage sales, visiting state and national parks, and trying out new disc golf courses.
He will be remembered for: always putting others first, finding the best in each person, recommendations on the latest great book he read, and endless dad jokes and puns.
Bryan is survived by his loving wife of nearly 30 years, Gwen, children Jack, Russell, and Anna, brother Brent Hop, sister Nancy (Corey) Andersen, sister-in-law Cathy (Bob) Hamblin, brother-in-law Dan Pearson, brother-in-law Randy Pearson, sister-in-law Cindy Pearson, aunts and uncles John (Arlene) Roe, Carl (Joann) Roe, Jeanette Roe, Winnie Nelson, Clarice Erickson, Steve O'Connell, nieces and nephews Alysha Hop, Andrew (Amber) Hop, Austin Hop, Nick Andersen, Abby Andersen, Jeff (Carleen) Hamblin, Donald (Michelle) Hamblin, Joel (Anna) Pearson, Kelina (Brett) Toney, Aaron (Heather) Pearson, Katlynn (Eric) Weedman, and many other cherished relatives, co-workers and friends.
He was preceded in death by his mother Jo Hop, father Bruce Hop, aunts and uncles Margaret (Jack) Woods, Robert Roe, Russ (Irene) Roe, Larry (OnaVee) Sage, Bev O'Connell, and Roger Nelson.
To honor Bryan, the attire is casual for both events. Viking, Gopher and Tiger Gear is welcomed.
Visitation was Thursday, June 1, 2023 from 3-7 pm at Bakken-Young Funeral & Cremation Services 728 S Knowles Avenue New Richmond, WI and on Friday, June 2, 2023 from 4:30-6 pm at R&D Catering and Banquet Facility 1492 131st St, New Richmond, WI.  A Celebration of Bryan's Life was held on Friday, June 2, 2023 at 6 pm at the R&D Catering and Banquet Facility 1492 131st St, New Richmond, WI and streamed live through the link just below this obituary.  In lieu of flowers, memorials may be directed to:  the Cancer Center of Western Wisconsin or the Five Loaves Food Shelf.  Arrangements are with Bakken-Young Funeral & Cremation Services.
Click here to watch the recording of Bryan's service