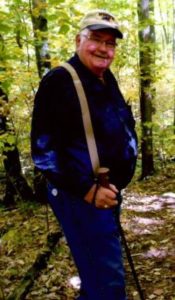 Bruce A. Medchill was born November 2, 1941, in Frederic, Wisconsin and passed away in New Richmond, Wisconsin, on July 22, 2022, at 80 years of age. He was preceded in death by his parents, Conrad and Clara Medchill; Brother, Donald Medchill; brother-in-law, Glen Shodahl; brother-in-law, Dennis Peterson; sister-in-law, Norma Ringham; and a niece, Lynn Shodahl.
Bruce married Carol Brenholt in 1960 and four children were born of that marriage; they were later divorced. He was married for a short time to Sue Knutson. In 2004, Bruce married Nel Bishop.
Bruce is survived by his wife, Nel; children: Todd, Michelle (Tim Guck), Vicki (Peter Berkvens), and Kevin (Diane); grandchildren, Jeremy (Candie) Larson, Jenny (Cal) Larson Schwartz, Caleb Medchill, and Jacob Medchill; sister, Shirley Shodahl; sisters-in-law, Shirley Medchill, Helen Rimarcik, Evelyn Stapelkamp, Gretchen Ziegman; stepdaughters, Amy (Jack) Miskelley and Rebecca McAbee; step grandchildren, Jack Guck, Adam (Hayley) Guck, and Emily (Cody Reed) Guck, Dan Miskelley, John (Chris) Miskelley, Abigail Stainback, Ella McAbee, Tyler McAbee; great-grandchildren, Gerard Larson, Warren Larson, Mason Schwartz, and Aubree Schwartz; step great-grandchild, Lexi Meissner; as well as many other family and friends.
Bruce farmed for many years near Cushing, WI. After his farming years were over, he was a drug and alcohol counselor for about 20 years. He enjoyed square dancing, playing cards, attending grandchildren's school activities, meals with family and friends, and just generally talking with whomever he encountered.
Bruce had been sober for 47 years; he attended AA regularly when his health permitted, and he was thankful to have AA in his life. His faith in Jesus grew as the years passed, and he knew that one day he would go home to his Savior.
Visitation was held from 10:00-11:00AM on Saturday, July 30, 2022 at Bakken-Young Funeral & Cremation Services (728 S Knowles Ave) in New Richmond with a Celebration of Life beginning at 11:00AM. A graveside service took place immediately following the memorial celebration and lunch was served after the graveside service. Interment was in New Richmond Cemetery in New Richmond. Arrangements are with Bakken-Young Funeral & Cremation Services.