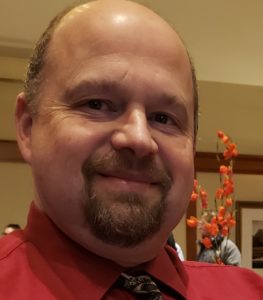 Bruce Allen Ladwig, age 51, of New Richmond, Wisconsin, passed away unexpectedly on Monday, March 23, 2020, at Westfields Hospital with his wife and children at his side.
Bruce was born on April 22, 1968, in Watertown, South Dakota, son of late Lloyd "Bee" and Geneva (Domagala) Ladwig. He was the youngest of seven siblings. He graduated from Hamlin High School and attended Lake Area Vo-Tech to earn a degree specializing in small appliance electrical repair. While working in Watertown, he accepted a managerial position for HOM Furniture and moved to Minnesota where he remained a dedicated and valued employee for 30 years.
On June 2, 2001, he married Margaret (Peggy) Smart, and in their 19 years together they welcomed two daughters, Kalley, Ella, and a son, Landon. First and foremost, his family was his number one priority. He enjoyed taking family trips to state parks, hiking, and anywhere he could spend time outdoors.
Bruce loved landscaping projects and was often teased for being a starter of many home improvements, but a finisher of few. He was an avid Minnesota sports fan, especially fond of the Vikings. He was best known for his quick-witted sense of humor and his easygoing personality. He was the person to always rely on for help and support in any situation. He had a heart of gold and will be dearly missed by all.
Bruce is survived by his wife, Peggy (Smart) Ladwig; his children, Kalley Fae, Ella Rose, and Landon Allen; his siblings William (Denise) Ladwig, Colleen Thill, Rolland (Olga) Ladwig, Lisa (Todd) Heer; sister-in-law Lori (Hardina) Ladwig; and many cousins, in-laws, nieces, and nephews.
Bruce is preceded in death by his father Lloyd "Bee" Ladwig; his mother, Geneva (Domagala) Ladwig; his brothers Calvin and Brian Ladwig; brothers-in-law Dean Thill and Richard "Rick" Smart; and father-in-law Ronald "Ron" Smart.
A public visitation was held on Friday, June 26, 2020 from 4-7 pm at Bakken-Young Funeral & Cremation Services (728 S Knowles Ave.) in New Richmond.  All guests attending will be requested to wear face masks, practice physical distancing and following CDC guidelines as well guidelines set by the county and city.  A family memorial service was held on Saturday, June 27, 2020 at 11:00 am at Bakken-Young with visitation one hour before the service.  A reception followed the service.  Arrangements are with Bakken-Young Funeral & Cremation Services.