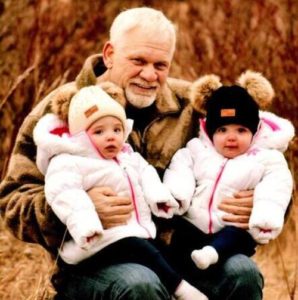 Bruce Bader, age 58 of New Richmond, died on Monday, April 12, 2021 at his home surrounded by his family. He was born the son of Warren and Shirley Bader on April 9, 1963 in New Richmond, WI. Bruce grew up in New Richmond attending New Richmond High School. Following school, Bruce hauled cattle for his father Warren, and drove for Bettendorf transportation. He also worked for Kittel Concrete Systems, Knutson, and retired from Ryan construction. Bruce married Tracy Kittel on June 8, 1985 at Saint Luke's Lutheran Church in New Richmond, WI. He loved hunting and fishing as well as driving his corvette and motorcycle. Bruce was a Master Bass fisherman. He was a strong, proud, hardworking family man.
Bruce is preceded in death by his father, Warren; niece, Alicia; and mother-in-law, Marcia Kittel. He is survived by his wife of 35 years, Tracy; daughter, Tonya (David) Larson; granddaughters, Oakley and Taytum Larson; mother, Shirley; siblings, Diane (Sam) Thompson, Lori (Dennis) Lackey, Kendra Bader, Jenni (Larry) Blietz, Jeffrey Bader; father-in-law, Arlen (Marlene) Kittel; brothers-in-law, Scott (Sherry) Kittel and Mitch (Sue) Kittel; and many nieces, nephews, relatives, the Red, White and Blue Crew, and friends.
A Celebration of Life was held Saturday, April 17, 2021 from 2:00-7:00PM at Bakken-Young Funeral & Cremation Services (728 S. Knowles Ave) in New Richmond. A private family memorial service was held prior to the Celebration of Life starting at 1:00PM. Military honors were performed by the New Richmond VFW Post 10818. Arrangements are with Bakken-Young Funeral & Cremation Services.
Please click here to watch the recording of Bruce's memorial service.