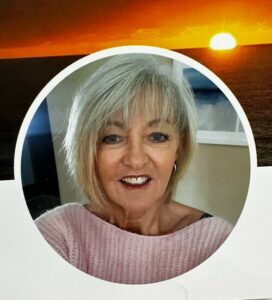 Brenda Kay Fiereck, age 66, died on Sunday, May 14, 2023 at Kinnic Health and Rehab in River Falls. She was born the daughter of Eugene and Marian (Wiener) Schlotfeldt in Sauk Centre, MN on May 13, 1957. Brenda grew up in Sauk Centre, graduating from Sauk Centre High School, class of 1975. She worked for Walgreens for over 30 years as a cosmetic manager. Brenda met Kevin McCauley in Oakdale, MN. They were together for 22 years prior to getting married five years ago. Brenda loved shopping, traveling, and spending time at the lake and with the grandchildren. She was a very private person, however had boundless love and compassion. Brenda mostly loved spending time with her loving husband, Kevin.
She is preceded in death by her parents, Eugene and Marian Schlotfeldt. Brenda is survived by her husband, Kevin McCauley; stepchildren, Brittany McCauley and Brandon (Kylie) McCauley; step grandchildren, Jocelyn McCauley and Madelyn McCauley; siblings, Bryan (Teresa Rock) Schlotfeldt, Beth (Dan) Watson, and Barbara (Duane) Pettit; nieces, nephews, step siblings, and friends.
A visitation was held on Sunday, May 21, 2023 from 2:00-5:00PM at Bakken-Young Funeral & Cremation Services (805 E Division Street) in River Falls. Arrangements are with Bakken-Young Funeral & Cremation Services.