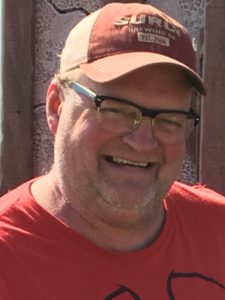 Brad Buschette died suddenly in River Falls on June 24th.  The only child of Ivan and Connie Buschette he grew up in Granite Falls, MN. He married Karen F Jansen in 1998 and had a daughter Abby.  Brad was a loving and protective husband and father.  He was Karen's soul mate, best friend, and life companion. To his daughter Abby he was a devoted and doting father, teaching her to love travel, to take risks, and to get up on that big horse and go. Selfless, no man could have loved his wife and daughter more.
He graduated from Yellow Medicine East High School and Macalester College, were he excelled.  Although often shrouded in modesty, his formidable  intellect was apparent to anyone who came into his sphere of influence.  He had broad sophisticated reading taste and was a witty critic.  No one ever had a boring conversation with Brad Buschette.  A master of the arcane, lover of obtuse facts, and a brilliant writer, he won the Great American Think Off in 2003.
Friend to all children and wrangler of stray cats, he nurtured and protected both.  Brad was a leader of the Montessori parents and a magnanimous neighborhood host, creating perfect backyard pizzas, delicious Buschette buns and the best Christmas cookie gifts.  Always willing to help, he was annoyingly reluctant to impose by asking for return favors.
A Seeker of truth and treasures who never did anything small, Brad impacted the lives of everyone he met, with a heart bigger than his  6' 7" body. He was deeply loved and will be dearly missed by his family and many friends.
Brad is survived by his beloved wife Karen Faith Buschette and cherished daughter Abigail Faith Buschette; other family members, many nieces and nephews. He was preceded in death by his parents Ivan and Connie Buschette.  Memorials preferred in lieu flowers.  A Celebration of Brad's Life was held Monday, June 27, 2016 from 3-7 pm at Bakken-Young Funeral Home in River Falls.  Arrangements are with Bakken-Young Funeral & Cremation Services of River Falls.