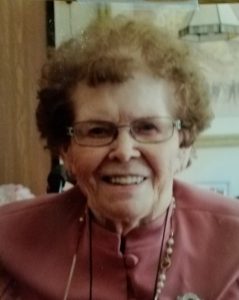 Borghild Line Eastlund Sherva
March 3, 1920-June 26, 2017
Borgie was born March 3, 1920, the sixth child of Norwegian immigrants in Perley, Minnesota.  She grew up in the depression era where the typical family life included oil lamps, outdoor plumbing,  no running water in the home and an old kitchen wood burning stove.  But there was plenty to eat, thanks to food from the garden, canned food for the winter months, chickens, and a pig to be butchered in the fall.  The Norwegian language was spoken at home, and the church services we also Norwegian.
Borgie attended college in Moorhead in the 2 year teachers program, where she met and married Philip Eastlund in 1940.  During the war, Phil was training in instrument landing systems in the Navy. She and her first two young children, Larry and Ted, traveled around the country with Phil.  They settled in Moorhead where Phil worked at the Fargo, ND airport and later her daughter Jean (Hines) and son Jon were born.
Phil died unexpectedly at the young age of 53.  In 1973, she married Mel Sherva, a widower from Whapeton, ND.  After only three years of marriage, she again became a widow, and this brought her to Hudson, WI to be near her daughter.
Borgie joined Bethel Lutheran church and enjoyed the Ladies Circle.  She was proud of her heritage and she  joined the Sytende Mai Society.
In 1982, Borgie married Darrell Nelson, where they had a new   "family" of  friends from  the  Veterans of World War II.  She greatly enjoyed the submarine veterans' get-togethers, which took them to many functions in different parts of the US.  She also found a new interest in international travel.  She traveled to Norway three times, and she even traveled to the Holy Land with a group organized by her church.
After 25 years of marriage, Darrell died in 2008.  After such a full life, she found herself very lonely.   She sold her home and moved to independent senior living at Wintergreen.  Here she regained her cheerful and outgoing spirit and her life revolved happily around coffee with the women, playing cards, and other group activities.
It was here that she found her final soul mate, Cully Wagener.  Together they  enjoyed the activities at Wintergreen , but they enjoyed most  playing cards with each other.
Borgie was always healthy and spry, but her health began to decline after she developed pneumonia in 2015.  Her slow recovery required her to move to assisted living and later to the Pineridge Gardens memory care unit.  Although she no longer could enjoy her life passion of interacting with her many friends, she retained her unique sense of humor, and was a favorite among staff.  Borgie was blessed to have Cully by her side through thick and thin.  On June 25, she developed breathing problems and slipped away the next day at the age of 97.
Borgie was preceded in death by her parents, her brothers and sisters, her three husbands, her eldest son, Larry, and Larry's daughter, Anissa.
She is survived by her children, Dr. Ted Eastlund (wife Carol Andresen of Gordon, WI) Jean Hines (husband Gary)  of Hudson and Jon (wife Emily ) Eastlund of Bay point, CA, six grandchildren, two  great-grandchildren, one step son,  and many nieces and nephews.
Borgie had a full and interesting life, was well loved and positively affected the life of others and will be remembered by many friends and family.
Borgie's  family suggests that any donated memorials given in her behalf be directed to : "CCH – The Staff Fund". Mail to Business Office, Christian Community Home, 1320 Wisconsin Street, Hudson WI 54016.
A Celebration of Borgie's Life was held on Friday, July 14, 2017 at 2:00 pm at Bethel Lutheran Church Downtown Campus (920 3rd St.) in Hudson.  Visitation was also Friday from 1- 2 pm at the church.  Arrangements are with Bakken-Young Funeral & Cremation Services of Hudson.