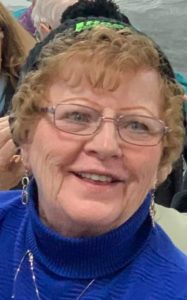 Beverly Pederstuen age 80 of New Richmond, WI grew her wings and went home to God's heavenly Kingdom to be with Jesus Thursday, January 27, 2022; holding hands and surrounded by her children at Regions hospital in St. Paul, Minnesota.  Bev, as her friends and family knew her, was born February 22, 1941 in Prairie Farm, WI and she was raised in Irvington and Knapp, WI.  She attended Irvington and Knapp grade school and graduated from Boyceville High School Class of 1959.
Bev was married to Glenn Haas, raised 4 children in Roberts, WI, and divorced.  Early in life she worked at Fabritec in Amery, WI for one year then worked for Buckbee Mears in St. Paul, MN where she was Blueprint Interpretation Certified for forty years and took her retirement to New Richmond, WI.
While she enjoyed word find puzzles and watching T.V. Bevs favorite daily pastime was hugging and loving and caring for her kitties Cassie and Mimi.  She was famous for canning tomatoes for chili only, but Bev will always be remembered for her award winning potato salad, coleslaw and awesome apple pies….all made from her mothers recipes.
Bev's favorite car was a Ford Thunderbird.  She owned many through the years.  The latest being a meticulously maintained 1994 model which she enjoyed cruising the county shopping and looking for treasures at garage sales and thrift stores.  Bev enjoyed decorating her home and took great pride in making it look nice.
Nobody that knew Bev will forget how much she enjoyed a good party, her infectious laugh, beautiful smile, and twinkly blue eyes.  Bev had a great appreciation of the military, and was a philanthropist donating to multiple charities. She will be most remembered for all the love she had for Jesus and spending time with her beloved family, siblings and friends.
She is survived by her daughter Glenda (Dean) Hansen; sons, Jeff (Barb) Haas, Brian (Donna) Haas; daughter, Melissa (Bob) Frame; 9 grandchildren and 10 great-grandchildren; sisters, Carolyn (Eugene) Zawadski, Sonja (Lyle) Gunderson; brother, Paul (Cindy) Pederstuen; sister, Cheryl Lindberg; brother, Gary Pederstuen; sister, Rhonda (Al) Erickson; and many nieces and nephews.
Bev was preceded in death by her significant other Hartzel Lozier;  infant brother, Paul; parents, Paul and Nina Pederstuen; sisters, Geneva Kistner, Sandra Sweeny and great grandson, Landon Hansen.
A memorial service was held on Tuesday, February 1, 2022 at 2 pm at Roberts Congregational UCC Church.  Visitation was Tuesday from 12:00-2:00 pm prior to the service.  Interment was in Boardman Cemetery, with a fellowship and dinner of Bev's favorites following at the Roberts Congregational UCC Church.
Arrangements are with Bakken-Young Funeral & Cremation Services.
Click here to watch the recording of Beverly's memorial service