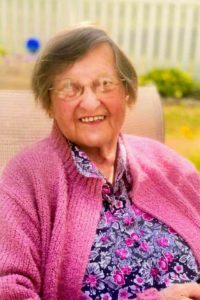 Beverly Ruth O'Connell
March 19, 1934 to November 9, 2021
Beverly Ruth O'Connell was a kind and caring wife, mother, grandmother, great grandmother, sister and friend. She passed away Tuesday (Nov. 9, 2021) at Our House New Richmond, WI with family by her side. Beverly was born March 19, 1934, in River Falls, WI to Ruth and Harry Hop, the first of four children. She married the love of her life Stephen O'Connell, October 4, 1950 at the Little Brown Church in the Vale, Nassau, Iowa. She lived with her parents in Hammond even after getting married until her husband returned from the Korean War. Around 1960 she and Stephen built a house in New Richmond and lived the remaining time of her life there. Beverly was active in many activities throughout her lifetime, homemaking, crafting, sewing, knitting, crewel working, antiquing, appraising, title one coordinating, 4H, Girl Scouts, gardening, letter writing, volunteering, but her absolute priority was her family. She is survived by her husband, two sisters, eight children, twenty grandchildren and fifteen great grandchildren (with a few on the way). She will be greatly missed by family and friends.
Flowers may be ordered from Avalon Floral in Eau Claire, WI (715-838-8880). An Open House was held on Sunday, November 28, 2021 from 11AM-2PM at Bakken-Young Funeral & Cremation Services (728 S. Knowles Ave) in New Richmond with a short informal ceremony at 2PM. Interment will be in Boardman Cemetery at a later date. Arrangements are with Bakken-Young Funeral & Cremation Services.