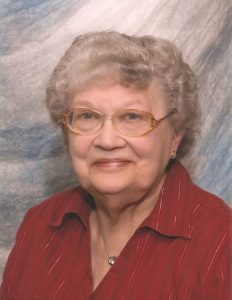 Beverly Ann (Lund) Finstad, age 88, of River Falls, Wis., died January 14 at the Kinnic Health and Rehab in River Falls.
She was born November 9, 1928 in Hudson Township, Wis. to Harold and Florence (Prinsen) Lund. She attended school in Baldwin and Hudson, graduating from Hudson High School in 1946. She moved to River Falls shortly after high school to work as a bookkeeper at Production Credit Association. On June 30, 1950 she was united in marriage to Orvin Finstad at the First Reformed Church in Baldwin.
Bev was the personification of love, kindness, patience, generosity, selflessness, hospitality and empathy. As an only child, she was very close to her many cousins and loved her family dearly, including her 'work family' at the River Falls Library, where she retired at the young age of 86. She was a very devoted mother and grandmother who thrived on attending all of their concerts, plays, sporting events and celebrations. For several years Bev worked at Meyer Middle School in the hot lunch program and was a long-time member of Ezekiel Lutheran Church, sang in the church choir and was active in Sarah Circle. She loved music, dancing, old movies, radio and TV shows, as well as baseball, basketball, figure skating, and the Green Bay Packers. She had a sweet tooth, enjoyed gardening, canning, baking, playing Scrabble, attending Bible study, and kept a diary for over 70 years. She also loved birds, animals, flowers, and all things Dutch.
She was preceded in death by her parents and husband. She is survived by her son, Brad (Terese) Finstad of River Falls; son, Craig (Rhonda) Finstad of River Falls; daughter, Tanya (Charles) Schlee of Minneapolis, Minn.; grandchildren, Joel (Bridgett) Finstad; Mark Finstad; Alexander Schlee; Kristen Finstad; Carly Schlee; and great-granddaughter, Madison Finstad.
A Funeral Service was held on Thursday, January 19, 2017 at 11 am at Ezekiel Lutheran Church 202 S 2nd Street River Falls, WI.  Visitation was held on Wednesday, January 18, 2017 from 4 – 8 pm at the Bakken-Young Funeral Home 805 E Division Street River Falls and on Thursday from 10-11 am at the church.  Interment was in the Greenwood Cemetery in River Falls.  Arrangements are with Bakken-Young Funeral & Cremation Services of River Falls.