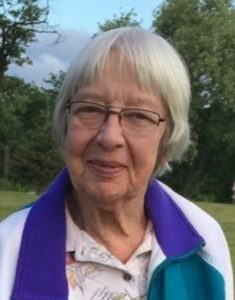 Beatrice Ann Schindeldecker, 88
Beatrice "Betty" Ann Schindeldecker formerly of Star Prairie, WI, passed away surrounded by family at Amery Memory Care.
She was born on October 26, 1928 in St. Paul, MN to the late Anna and William Schulze.  She was preceded in death by her husband, Frank Schindeldecker and son, Jeffery Schindeldecker.
Betty is survived by her daughter, Julie Schindeldecker, fiancé, Jim Karacia, son, Tom Schindeldecker, wife Connie, daughter Kris Booth, and husband Darren.  Grandchildren, Josh Schindeldecker, wife Maureen, and McKenna Booth.  Great grandchildren Clara and Calvin Schindeldecker.  Brother, William Schulze, Jr.  As well as many nieces and nephews.
She was a member of Bethany Lutheran Church.   She loved spending time with her family.  Betty enjoyed old time music and loved to go out and polka and square dance.
A Memorial Service was held on Saturday, October 14, 2017 at 11 am Bethany Lutheran Church in Star Prairie, WI.  Visitation was also Saturday October 14, 2017 from 10-11 am at the church.  Interment was in Wagon Landing Cemetery.  In lieu of flowers memorial contributions can be made in honor of Betty to the Alzheimer's Association C/O Bakken-Young Funeral & Cremation Services PO Box 46 New Richmond, WI 54017
Thank you to Amery Memory Care and St Croix Hospice for the wonderful care provided.  Arrangements are with Bakken-Young Funeral & Cremation Services Beebe Chapel of New Richmond.