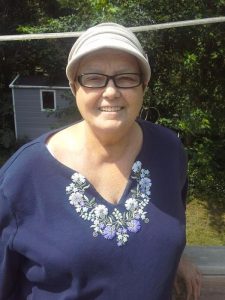 Betty Gayle Regan Schaar, age 70, passed away on Friday, August 26, 2016, at her home in River Falls, WI, after a long battle with cancer.
 She was born August 18, 1946, in Minneapolis, MN to Patrick and Myrtle Regan. She was preceded in death by her parents and brother, Jerry, and sisters, Patty and Evie. She is survived by brothers, Mike and Bill.
 Betty is survived by her loving husband Gordy Schaar; five children, son Jon (Nancy), son David, daughter Debbie (Dean), daughter Cathi (Steve) and son Duane; three step-children Mike (Amy), Kris (John) and Jason. She has eleven grandchildren, Dean, DANI, Jessica, Tanner, Justice, Morgan, Neamiah, Nicole, Bryan, Kinsey and Sammie. And she has six great grandchildren, Nolan David, Elle Iris, Jackson, Jensen, Jase, and Liam.
Betty had a great love for home, family, and her furbaby Cappy. She enjoyed crafting and bird watching, and loved wild flowers. She had a love of horses that she passed on to her children. She liked John Deere tractors and equipment, and she turned that into a career where she helped design advertising pages for them.
She will be cremated and A Celebration of Life will be held October 2, from 2 – 6 at the River Falls Legion, 701 N Main Street, River Falls, WI.
Cards and memorials may be sent c/o Bakken Young Funeral Home, PO Box 431, River Falls, WI, 54022.
Arrangements are with Bakken-Young Funeral & Cremation Services of River Falls.