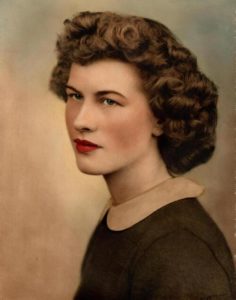 Betty Ellen Monicken, born on July 30, 1926, in Rush River Township to Bert and Luella (Orvold) Holman was peacefully called to her heavenly home on Thursday, March 25, 2021, at Park View Home in Woodville, Wisconsin.
Betty was raised in the rural Rush River township area and graduated from Baldwin High School. She traveled by train to Washington state to obtain her nursing assistant degree and enjoyed working at the Baldwin Hospital as a Nurses' Aide.
She met her husband, Maloy Monicken, Sr. at a dance after he returned home from serving in the U.S. Navy in World War II. They were married on June 1, 1948, at North Rush River Church.
Betty was proud of her Norwegian heritage and belonged to the Sons of Norway. She enjoyed sewing, quilting, gardening, and spending time on the farm. She was a spiritual Christian woman valuing her involvement with the Rush River Church, where she taught Sunday School, sang in the choir, and served as a ladies' aide, preparing for annual meals, special occasions, and services.
Betty was preceded in death by her beloved husband of almost fifty years, Maloy Lowell Monicken, Sr.; her brother; Arlo Holman; her brother, Burnell Holman; and her son-in-law, Arlen Knuth. Surviving family includes her sister, Lenore (Harold) Moll; her sister-in-law Merlee Jensen; and her five children, Maloy "Ole" (Nola) Monicken, Jr., John Monicken, Ellen Knuth, LueAnn (Michael) Croes, and Rachel (Dan) Johnson. She took loving pride in her grandchildren, Jessica and Katie, Amy, Emily, Andrea, and Tim, Jayne and Carrie, Betsy, Melinda and Dawn, and Joshua. She was also blessed with twenty-one great-grandchildren and two great-great-grandchildren.
When we remember Betty, we fondly reflect on the love and joy she had for her family and strong love of music, especially hymns.
A memorial service was held  Friday, July 2, 2021 at 2:00PM at Rush River Lutheran Church (N8623 County Road Y) in River Falls, WI with a visitation one hour prior to the service. Interment was in Rush River Lutheran Cemetery. In lieu of flowers, memorial donations may be given to Rush River Lutheran Church, River Falls, WI, or Park View Community Campus, Woodville, WI. The family of Betty Monicken wishes to thank the dedicated and caring staff of Park View where she received exceptional care. Arrangements are with Bakken-Young Funeral & Cremation Services.