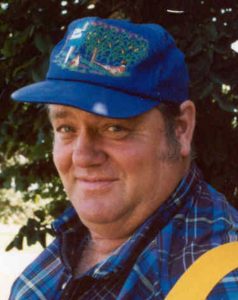 Bernard "Bernie" Arnold Wikkerink, age 74, of Baldwin, WI, passed away unexpectedly at his farm on Wednesday, August 30, 2017.
He graduated from Baldwin High School, class of 1961 and attended the Farm Short Course at the University of Wisconsin, Madison in farming and agriculture. He served in the US Army from 1964-1966, was stationed in Korea as a radar operator and then in Maryland as an MP. He is a proud member of the Baldwin American Legion Post #240.
After retirement from farming and driving trucks, Bernie was an avid collector of tractors, farm machinery, fixing machinery, scrapping metal and loved to attend auctions. He attended the First Presbyterian Church and was a member of Gethsemane Lutheran Church. He will be missed by his best friends, Terry Edwards, John Vrieze, Donny Grossaint, Jack Larson, and others at the morning coffee gatherings.
Bernard is preceded in death by his wife, Carol; parents, Arnold and Agnes; and sister, Virginia Belland. He is survived by sisters, Judy Newman of Menomonie Falls, WI, Betty (Glenn) Beck of Plymouth, MN, Sandra (Robert) Rutkas of Yorkville, IL, Bonnie (Bill) McCluskey of Glenwood City, WI; children of late wife Carol, David McConnell of SD, Susan Higgins of New Richmond, WI, Danny (Julie) McConnell of Baldwin, WI; brother-in-law Douglas Belland of Forest Lake, MN; and many cousins, nieces, and nephews.
Funeral service were held Wednesday, September 6, 2017 at the Baldwin Gethsemane Lutheran Church (1350 Florence Street, Baldwin, WI 54002) at 4:00 p.m. with visitation starting at 3:00 p.m. at the church. Interment was in Baldwin Cemetery following the service.
In lieu of flowers, family requests memorials to be given to the American Legion Post 240 (410 Maple St., Baldwin, WI 54002) or Baldwin Gethsemane Lutheran Church (1350 Florence Street, Baldwin, WI 54002).